Blood fest.
So let me get this straight. 74 people were murdered in a football stadium brawl last year. Two days ago an Egyptian court passes a death sentence on 21 people involved those murders. In response, over the past two days, 48 people have been murdered.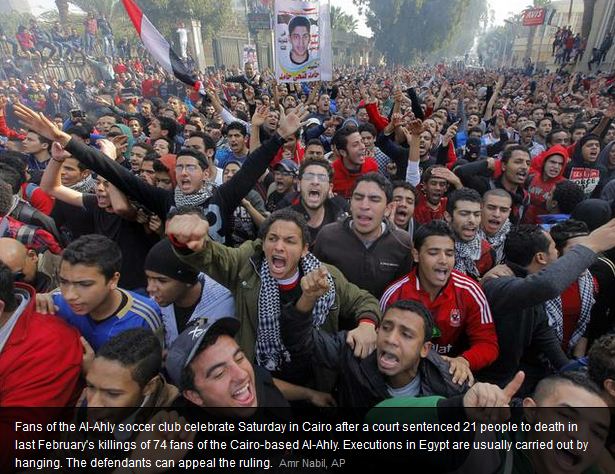 37 dead in Egypt riots after verdict in soccer deaths
Military deployed to restore stability, but assaults continued into evening.
CAIRO — The death toll climbed to 37 in Saturday's riots in the northern city of Port Said after an Egyptian court handed down 21 death sentences in connection with last year's deadly soccer melee.
At least 300 have been injured, local media reported, in ongoing clashes between security forces and protesters who are angered by the verdicts related to a February brawl in which 74 soccer fans were killed.
President Mohammed Morsi canceled a scheduled trip to Ethiopia on Saturday and instead met for the first time with top generals as part of the newly formed National Defense Council.
The military was deployed in Port Said to try to restore stability, but assaults continued into the evening.
Saturday's unrest was the latest in a bout of violence that has left a total of 48 people dead in two days, including 11 killed in clashes between police and protesters marking Friday's second anniversary of the uprising that ousted longtime leader Hosni Mubarak.
The clashes broke out as protesters demonstrated against the Muslim Brotherhood and Morsi amid widespread calls for change and growing charges of injustice.
"Egyptians are very worried about what is happening because they feel the country is getting into a very difficult situation," said Said Sadek, professor of political sociology at the American University in Cairo.