Finnish company Wärtsilä, values profit over UN sanctions and human lives.
They're posting big profits from last year's sales of diesel marine ship engines to Chinese ship builders constructing ships for the Iranian regime, a clear breach of U.N. sanctions against Iran. This is in stark contradiction to Finland's steadfast adherence to U.N policies.
But here's more on the Finnish company Wärtsilä, that's selling it's engines to the ChiComs. The Finnish state owns 11.1 shares in the Metso corp that owns a foundry where many engines blocks for Wärtsilä are poured, fettled and prepped for shipping to Wärtsilä machine shops. The Finnish state still controls 11.1% of Metso through state owned Solidium Oy. (Possible Finnish state connection?) How deep does the rabbit hole go?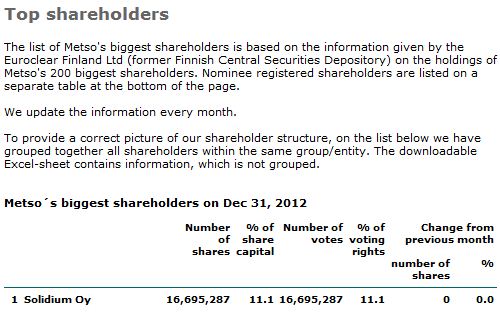 It's Metso's Rautpohja foundry's bread and butter outside of the cylinder and vac rolls it produces for the paper machine manufacturer, and possibly the state gets its cut. So the Finnish state could be both aiding and abetting the breaking of UN sanctions against Iran as well.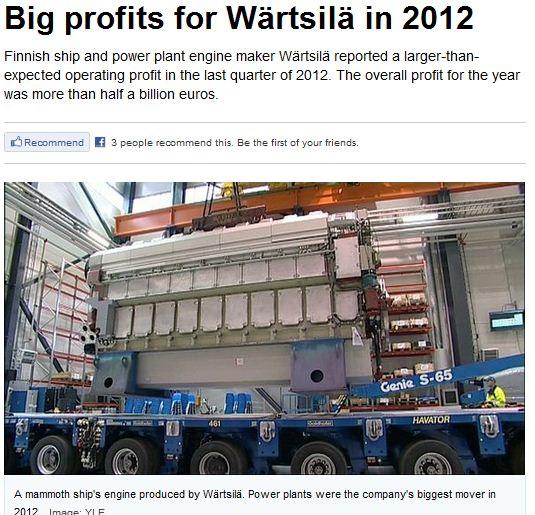 In spite of a year characterized by fragility in major industrial markets, Finnish ship and industrial engine maker Wärtsilä managed to increase its annual profit for 2012 to 515 billion euros, up ten percent from 469 million in 2011. Annual turnover meanwhile came in at 4.7 billion euros, a 12-percent increase over the previous year.
The last quarter of the year was particularly strong, with revenues and profits surging notably compared to one year earlier.
Of its international operations, Wärtsilä said that business in Asia and the Middle East looks particularly promising. However the outlook in neighbouring southern Europe continues to be challenging.
Group chief executive Björn Rosengren was especially pleased with the company's performance in Brazil, where a number of major orders have been placed.
"Wärtsilä is now a contender to be reckoned with for power plants producing more than 500 megawatts," Rosengren said.
The company expects sales to grow this year by up to 10 percent.