All dressed up, now with a place to go.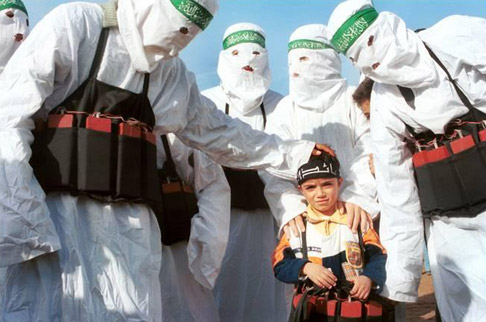 Hamas to establish military academy for schoolkids
By KHALED ABU TOAMEH01/24/2013 18:42
Haniyeh says inaugural Gaza school will prepare kids as young as 12 to establish Palestinian state "from the river to the sea."
Hamas plans to establish a military academy in the Gaza Strip to train and educate schoolchildren.
Hamas Prime Minister Ismail Haniyeh announced on Thursday that the military academy, the first of its kind in the Gaza Strip, would prepare the children for the "phase of liberating Palestine."
He said that children in grades 7-9 could join the school and graduate with a diploma or a BA in military affairs.
Haniyeh made this announcement during a ceremony in the Gaza Strip marking the birth of the prophet Muhammad. More than 10,000 schoolchildren attended the ceremony, which included a "military parade" by some of the teenagers.
The prime minister said he has instructed the Hamas-run Education Ministry to draw up plans for the establishment of the military academy. Haniyeh said that the new academy would educate and prepare children for the establishment of a Palestinian state "from the river to the sea."
The decision to establish a military academy follows Hamas's announcement that it would create its own "defense ministry" in the Gaza Strip. That announcement was made shortly after the IDF's Operation Pillar of Defense in Gaza in November.