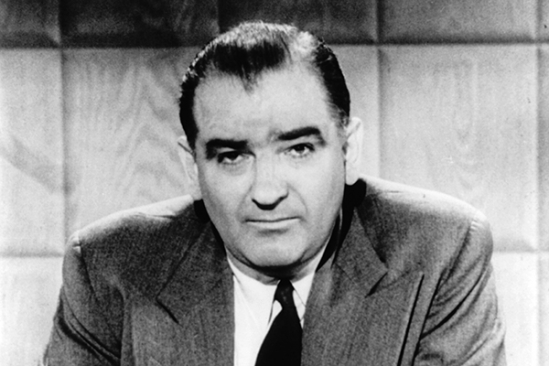 Joe McCarthy was right all along
Published 01/24/2013
Diana West
WASHINGTON, D.C. Most Europeans are unlikely to be familiar with the facts behind the American term "McCarthyism." They probably know it describes something very bad in American politics – the "Communist witch hunts" of more than half a century ago. They may also know that simply uttering the term, like casting a spell, stops all debate cold by associating someone with the eponymous Joseph McCarthy. As the story goes, he was himself very bad. After all, he conducted those long ago "Communist witch hunts," ruining his name in perpetuity. This probably exhausts general knowledge.
But here's a secret: Most Americans know little more than this same familiar but completely false narrative. In recent years, stunning revelations from archives in Washington and Moscow have confirmed that McCarthy's investigations – and those conducted by other officials before and after – netted not innocent and imaginary "witches," but secret cadres of hardened Communist agents determined to bring down the American republic. Surely, this makes Joe McCarthy a great patriot and deserving "the plaudits of a grateful nation."
So wrote M. Stanton Evans, the consensus-smashing, revisionist biographer of McCarthy in Blacklisted by History: The Untold Story of Senator Joe McCarthy and His Fight Against America's Enemies (2007). Evans was attempting to convey the significance of just one particular Soviet intelligence operation, circa 1945, that McCarthy was instrumental in bringing to light, circa 1950.
Even a few details about this operation, named initially as the Amerasia affair after a pro-Communist journal of the day, will add a little needed context to modern-day perspective on the so-called McCarthy era.
Amerasia's editor, Phillip Jaffe, came under FBI surveillance in 1944 after the contents of a confidential OSS memo appeared in his magazine. (The OSS was the precursor to the CIA.) The FBI soon learned Jaffe was in possession of hundreds of stolen, secret US government documents, plus a photographic set-up. The magazine ran no photographs, so the FBI plausibly believed it had come across an active espionage operation. Further surveillance, including wire-taps, determined that Jaffe was in frequent contact with US Communist Party leader Earl Browder, Soviet "diplomats" in New York, a top Chinese Communist envoy of Mao and US diplomat John Stewart Service (home from Chiang Kai-Shek's China, where, it later emerged, Service roomed with two leading Communist agents, Solomon Adler and Chi Chao-ting).
On June 6, 1945, FBI agents arrested six people, including Jaffe and Service, and seized hundreds of top secret documents, many concerning military matters. An open-and-shut espionage case, it would seem.