Spinmeister.
The Baroness, after being egged by her fellow coreligionists in London for not adhering to the sharia.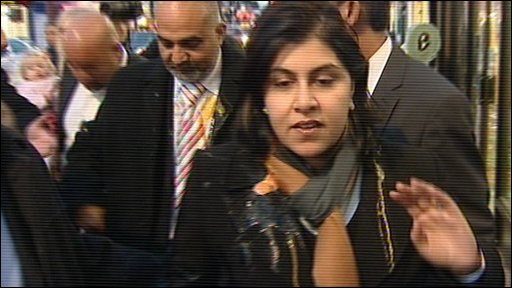 The Baroness: "I don't have to remind anyone what happens when an unfounded suspicion of one people can escalate into unspeakable horror."
What a load of nonsense, there is no "one people" in question here, any more than there is "one people" in question in regards to Christians/Christianity. We are talking about people from all walks of life and backgrounds that adhere to a certain ideology, called Islam. Many of the adherents to that ideology are waging a 'holy war' around the world in its name, as well as trying to subvert modern day liberal democracies (in spite of its many faults) to be more sharia compliant.
Once again an apologist tries to present the situation that Muslims have created, as being entirely the West's fault. I also seriously question the "findings" in regards to 'increased' acts of Islamofauxbia. It's kind of like how the police find an "increase of drunk drivers" by politicians lowering the acceptable amount of alcohol in the bloodstream. Lowering the bar on hate speech to include just about anything negative said about Islam, will produce more instances of "Islamofauxbia".
Sorry, but until proven differently, I'm not buying.
Baroness Warsi: Fewer than one in four people believe Islam is compatible with British way of life
Fewer than one in four people now believe that following Islam is compatible with a British way of life, Britain's most senior Muslim minister will warn today.
Highlighting unpublished research showing that a majority of the country now believes that Islam is a threat to Western civilisation Baroness Sayeeda Warsi will say that "underlying, unfounded mistrust" of Muslims is in itself fuelling extremism.
And she will cite new figures from the Association of Chief Police Officers showing that between 50 to 60 per cent of all religious hate crimes reported to police in Britain are now perpetrated against Muslims.
"My fear is that seeing one community as the 'other' is a slippery slope that will enable extremists to advance their twisted interests unchecked," she will say.