Andy once again applies historical context to a present day incident involving Islam, this time the ongoing hostage situation in Algeria.
H/T: Fjordman
American Hostages to Jihad in Algeria: 1640 to Present
January 18th, 2013 (1 hour ago) by Andrew Bostom |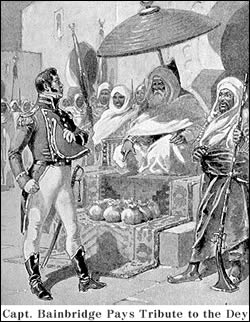 Early Wednesday (1/16/13) jihadists seized a gas field in Amenas, eastern Algeria, near the border with Libya, taking hostage just under 200 workers, predominantly Algerians, but also some forty foreigners, among them an undisclosed number of Americans. Speaking to France 24, an unnamed hostage claimed the prisoners were being forced to wear explosive belts. The hostage added that their captors were heavily armed and had threatened to detonate the base should the Algerian army attempt to storm it.
The jihadist attackers, in a statement sent to ANI, a Mauritanian news agency, claimed "the operation was a response to flagrant interference of Algeria, [which] opened its airspace to the French Air Force [who] bombed areas of northern Mali,"  and demanded the "immediate halt of the aggression against our own in Mali." Reference was also made to "the participation of Algeria in the war with France," as "being a betrayal of the blood of the martyrs of Algerians who were killed in the fight against French colonialism." Al Mulathameen ("The Masked Brigade"), who apparently prepared the announcement, is associated with Al Qaeda in the Islamic Maghreb, the North African affiliate of Al Qaeda. The group insisted it was holding more than 40 "crusaders" —a prototypical jihadist reference to non-Muslims — "including seven Americans, two French, two British as well as other citizens of various European nationalities." Algeria's interior minister, Daho Ould Kablia, maintained the raid was orchestrated by Mokhtar Belmokhtar, an Algerian who fought Soviet forces in Afghanistan in the 1980s and has reportedly established his own group in the Sahara
Initial reports Thursday 1/17/13 (here, here) indicated that perhaps half of the ~ 40 foreign workers, including some of the Americans, as well as ~30 to 40 of the ~ 150 Algerians held captive may have escaped their jihadist kidnappers. An ominous AP story then reported the jihadist captors claimed 35 hostages, and 15 of their members were killed, after Algerian helicopters attacked the gas facility in a strafing run. Reuters subsequently reported thirty hostages were killed, including seven foreign hostages, along with eleven of their jihadist captors, during the Algerian military assault. Following the violent conclusion of the standoff, US Today later repeated both Algerian claims that 600 hostages in total had been freed, and the insistence by the jihadists that 35 of the hostages had been killed, purportedly including 5 Americans. But ABC News, citing unnamed  "U.S. officials," claimed five Americans who were at the Algerian natural gas facility when it was raided by the jihadists are now safe, and believed to have left the country.
By Friday (1/18/13) morning, British Prime Minister David Cameron told lawmakers Algerian forces were "still pursuing terrorists,"  while attempting to secure a "large and complex site," and searching for missing hostages. Cameron noted 30 Britons had been unaccounted for Thursday (1/17/13), but as of Friday morning, that number was considerably smaller. According to Fox News, an American from Texas was still missing. Senior U.S. defense officials also told Fox News that Thursday, two Americans had escaped unharmed; five other Americans who had been at the enormous Amenas facility were able to avoid being taken captive when the terrorists first attacked early Wednesday.