No surprises there.
I can't imagine the desperation of these people, sitting there in the clutches of these 7th century jihadist throwbacks, and having to rely on government bureaucrats in both Finland and in Yemen for their release.
NOTE: You'll have to ask yourself however, what kind of fool would conduct a "study trip" in the Islamic fundamentalist hell hole of Yemen, and invite his wife there as well.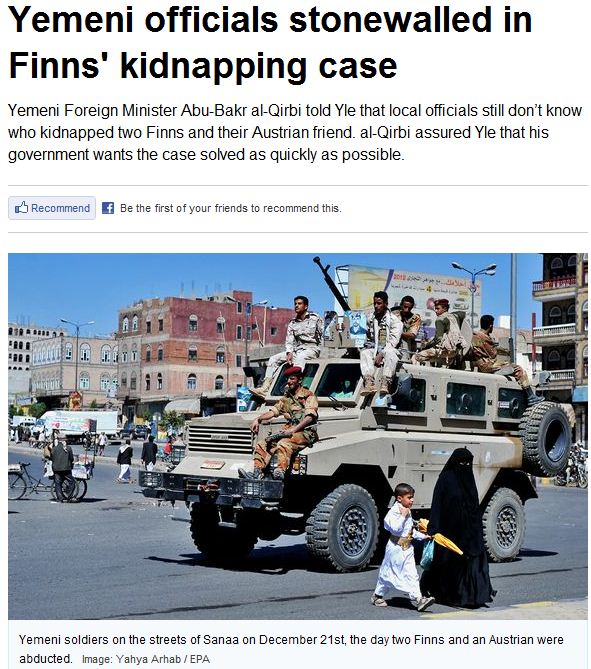 Yemeni officials say they still have no definitive information about who is behind the kidnapping of two Finns and their Austrian friend last December.
Speaking to Yle in London, Foreign Minister Abu-Bakr al-Qirbi called on Finns to be patient in the face of the three-week old case.
"I cannot say that the situation will be resolved. However we want to be sure this is done as soon as possible. We understand the pain of the relatives of the kidnapped, of the Finnish government and of the people," al-Qirbi said.
"Unfortunately in these cases we must act with patience and extreme confidentiality so that nothing can thwart their release," the minister added.
al-Qirbi noted that the case would be easier to crack if the abductors were tribesmen and not terrorists.
"There are just rumours, but we cannot be sure," the minister said.
Yemen will not pay a ransom
al-Qirbi said the government will not pay a ransom to the kidnappers. Rather the government plans to secure the release of the hostages by taking political actions based on the demands of the captors.