Ruport Murdoch, owner of FOX News, is the trailblazer of Western media journalism into tardland.
Make sure to also read Andrew Bostom's piece on Diana West's revealing article.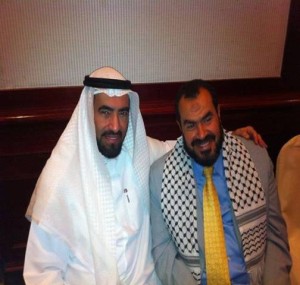 Murdoch's Man, Director-General of Al-Risala Tareq al-Suwaidan with Fellow Jew-Hating Jihadist and Broadcasting Companion at Al-Risala, Salah Sultan
Why are the attacks hypocritical? News Corps (and Fox News) CEO Rupert Murdoch co-owns the full-throated Muslim Brotherhood Arabic language Al-Risala via his 18.97% stake in Saudi Prince Bin Talal's Rotana Media group.

Al-Risala, the flagship "religious broadcasting" television network of Rotana is an odious mouthpiece for the Sharia supremacism, anti-Westernism, general xenophobia, Jew-and broader infidel-hatred spewn forth from, and sadly pathognomonic of, contemporary Middle Eastern broadcast media.

While Diana summarizes earlier analyses of Al-Risala's programming by the Anti-Defamation League, and an especially comprehensive analysis by Steve Stalinsky of the invaluable Middle East Media Research Institute (MEMRI), her report, uniquely, draws explicit attention to Murdoch's investment in this Arabic media megaphone for the dissemination of jihadist hatred.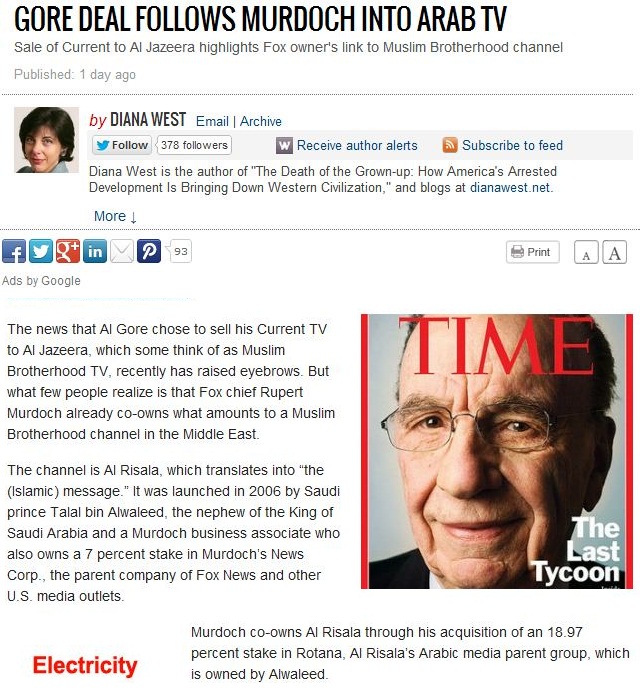 Based in Kuwait, Al Risala is run by general director Tareq Al-Suwaidan, a popular "tele-Islamist," who rails against Jews, Danish cartoonists and hosts a weekly "motivational" show – urging jihad against Israel (within 1948 borders), calling for a global Islamic caliphate, and other jihadist aims.
Al-Suwaidan widely is reported to be a leader of the Muslim Brotherhood in Kuwait. He also is an unindicted co-conspirator in the terrorism financing trial of the Holy Land Foundation, five of whose leaders were convicted of supporting Hamas, a wing of the Muslim Brotherhood.
With earnings reported to be over $1 million annually as a host and speaker, and with his CD "Lives of the Prophet" having sold over two million copies, Al-Suwaidan counts as one of Rupert Murdoch's more unusual cable personalities.
But Alwaleed's and Murdoch's Al Risala television is more than Tareq Al-Suwaidan.
The 24-hour religious channel broadcasts all manner of shows of Islamic interest. In May 2012, Al Risala launched a new weekly show, Masra Al Habeeb, hosted by Salah Sultan, the Hamas cleric, as freelance reporter Patrick Poole has documented, closely tied to Muslim Brotherhood "spiritual guide" Yusef al-Qaradawi and the Egyptian Muslim Brotherhood.
In 2011, Sultan called on Egyptians to kill every Israeli – "tourist or other" – who enters Egypt. As if to further Qaradawi's 2011 Tahrir Square exhortations to Muslims to conquer Jerusalem, Sultan sees his show, according to an account by the Anti-Defamation League, as providing "practical steps on how to liberate Al Aqsa."