A real nasty piece of work.
Vehemently Anti-Israel Marxist Brazilian, Carlos Latuff, won third place in the Simon Wiesenthal Center's 2012 Top Ten Anti-Semitic/Anti-Israel slur awards, for the following blood libel picture of Israeli PM, Benjamin Netanyahu squeezing the life out of an Arab child for votes.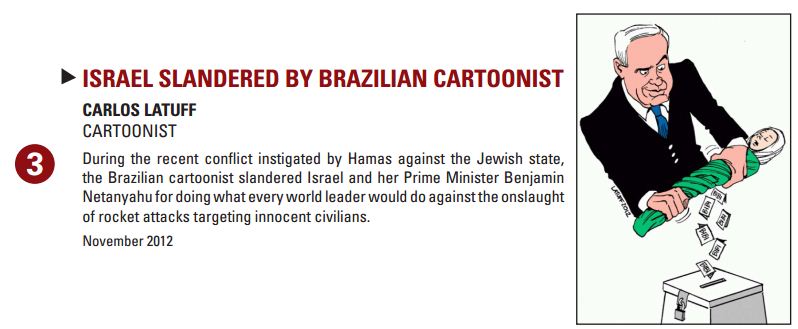 Latuff has become an icon in the anti-Israel movement, an often vitriolic voice lampooning and in more cases than not, crossing the line into overt anti-Semitism with many of his over-the-top depictions of Israeli soldiers and Israeli politicians. You need to only Google his name and then click 'pictures', to understand what this man is all about.
Once again he made the news at the SWC, with his pot-shot cartoon at Rabbi Hier, Latuff couldn't refrain from delving into the trough of anti-Semitism (that he keeps close by his drawing easel) for his being awarded 3rd place by the SWC. I republish the picture for clarity on what is exactly in question.
NOTE: Notice the SS lightening bolts, he disingenuously says that they are the "representation of a headache". What a puke.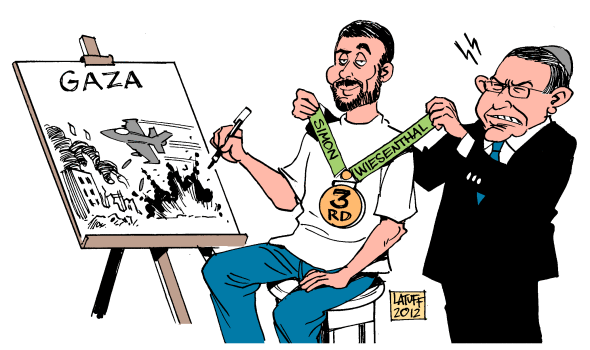 Brazilian cartoonist hits back at Simon Wiesenthal Center
January 4, 2013
(JTA) — A Brazilian cartoonist hit back at the Simon Wiesenthal Center for his inclusion on its top 10 slur list.
Carlos Latuff recently published a cartoon of the center's founder, Rabbi Marvin Hier, awarding Latuff a medal in response to the center's publication in December of a list of the top 10 anti-Israel and anti-Semitic slurs of 2012. Third on the list was Latuff's caricature of Israeli Premier Benjamin Netanyahu squeezing votes out of the body of a dead Arab child.
In the cartoon, an aggravated Hier presents a beaming Latuff with a medal that says "3rd" as Latuff sits on a chair drawing an airplane indiscriminately bombing Gaza. Hanging above Hier's right ear are two lightning bolts.
Petra Marquardt-Bigman, a historian and blogger for The Jerusalem Post, noted that the bolts are the symbol of the SS – an elite Nazi unit.
Latuff said the two flat S letters are a "cartoon representation of headache."
The Simon Wiesenthal Center is a human rights organization that seeks to combat anti-Semitism and teach about the Holocaust.