Let the evil begin.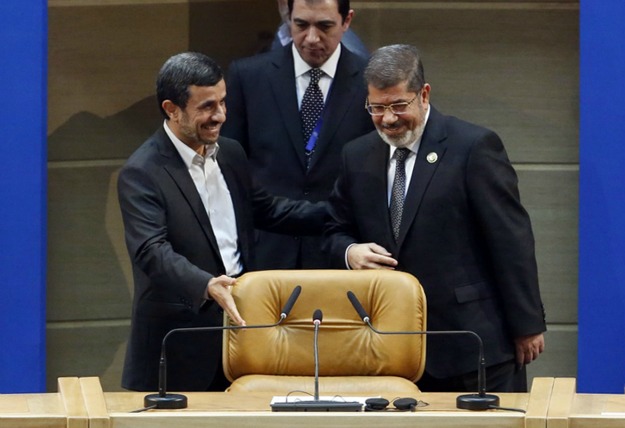 Iranian president invites Egypt's Morsi to visit Tehran
English.news.cn 2013-01-11 04:31:25
CAIRO, Jan. 10 (Xinhua) — Egyptian President Mohamed Morsi on Thursday received an invitation from his Iranian counterpart Mahmoud Ahmadinejad to visit Tehran, Egypt's presidential spokesman Yasser Ali said.
According to Ali, Iranian Foreign Minister Ali Akbar Salehi extended the invitation to Morsi during a meeting with his Egyptian counterpart Mohamed Kamel Amr, during which the two sides also exchanged views on the Syrian conflict.
Salehi said Iran urged finding a peaceful solution for the Syrian crisis and rejected any foreign interference in Syria's affairs, while Amr also called for an urgent solution to end the misery of the Syrian people, expressing belief that "Iran will have a big role in solving the crisis."
This is the second time for Salehi to visit Egypt under Morsi's leadership, after his last visit in September 2012.
Iran, an ally of Syria, supports the government of Syrian President Bashar al-Assad and calls for a peaceful resolution to the conflict in Syria, whereas Morsi said last December that " there was no place for the government of Assad in new Syria." Yet both countries agree on rejecting any foreign military interference in Syria.