Global Warming enthusiasts crestfallen.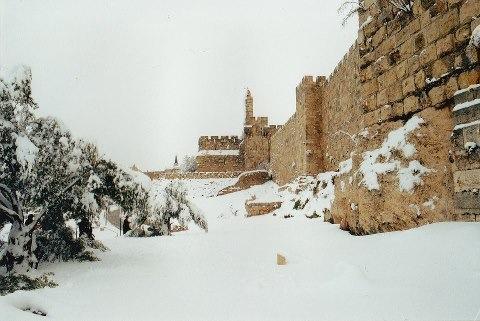 Jerusalem of white: Snow falls in capital, northern Israel
LAST UPDATED: 01/10/2013 08:37
Greatest snowfall since 1992 sees J'lem municipality announce closure of schools, kindergartens; police shut Jerusalem-Tel Aviv highway as snow predicted to persist until afternoon.
Branch bent over cable in snowy J'lem, Jan 10 2013 Photo: TOVAH LAZAORFF
The Jerusalem Municipality on Thursday morning announced schools and kindergartens will be closed due to snow. Police also closed the Jerusalem-Tel Aviv highway on Thursday morning at the entrance to the city due to icy conditions.
Elisha Peleg, an official in charge of emergencies with the Jerusalem Municipality, urged the city's residents to remain at home and stay off the streets, telling Army Radio the area had overnight seen its greatest snowfall since 1992.
He said 10 to 15 centimetres (4 to 6 inches) of snow had piled up in the city center and more than that in outlying areas. "The downtown area is bathed in white," Peleg said.
"The elders of Jerusalem don't remember such a snowstorm in years," Peleg also said.