They've seen it and done it.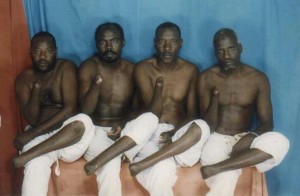 Welcome to Africa's Alqaedastan
"When it was my turn, they took me blindfolded,"  the thief said. "Suddenly I felt a pain in my right hand that was out of this world. My hand had just been chopped off."
This is Gao, once the seat of an empire, and then a glorified village, and now a city the size of Scranton under the boot of its Islamist conquerors. Gao has become a place where thieves have their hands cut off, where women are forced to wear the stifling Hijab in 113 degree heat or be lashed and where unmarried couples are stoned to death.
Borders are an illusion in Africa. No more than paper mirages that cannot be seen from the air or the roads where a thousand ethnic groups with dreams of glory move back and forth, striving and feuding, until the blood begins to flow.
The Tuaregs were one of them. Like so many others they wanted their own country. Like so many others they were a minority that felt aggrieved and persecuted by the majority. Like so many others they found neighborhood patrons willing to give them money and a sanctuary in exchange for more fighting. After their uprising failed, the Tuaregs set up shop in Libya under Gaddafi who was always looking for a few more African mercenaries to remake the continent into his hashish-fueled visions. And when Gaddafi fell, the Tuareg separatist militias still dreaming of glory, took his weapons and went west to carve out a state in Mali.
Obama: Al-Qaida, what al-Qaida? The war is over!