It's why they're called Islamonazis.
And this is the type of people that the illogical Left (and others) want Israel to do "business with", all the while they sit in their ivory towers in Europe with a cordon sanitaire around their own opposition (who even eschew violence) that they fundamentally disagree with.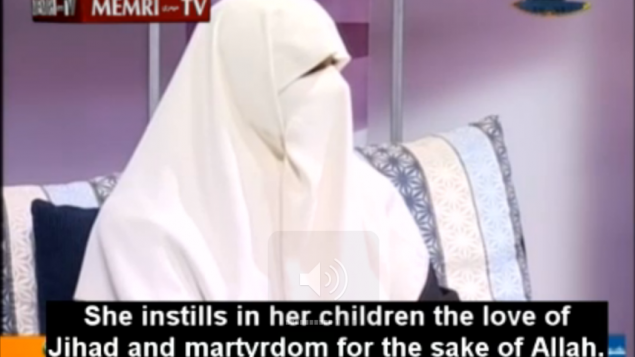 Encouraging our children to kill themselves for Palestine is a mother's most glorious duty, says wife of Hamas MP
'None of us want to die in our beds,' says Umm Osama, of herself, her husband and her children. 'We pray that Allah will grant us Paradise'
The wife of a Hamas member of parliament hailed the role of Palestinian mothers in preparing their children to kill themselves in acts of terrorism against Israel. Encouraging her children to "wage Jihad for the sake of allah" is "the most glorious thing a woman can do," she said.
In an interview on Hamas's Al-Aqsa TV channel, Umm Osama, wife of Hamas MP Khalil Al-Hayya, said that she, her husband and her children all prayed that Allah would grant them martyrdom.
"Women in Palestine play a great role in raising their children and in encouraging them to wage Jihad for the sake of Allah," she told the Gaza TV channel, in comments broadcast last month and recorded, reposted and transcribed Monday by the MEMRI (Middle East Media Research Institute) watchdog. "This is absolutely the most glorious thing a woman can do. Women play their role and are not inferior to men. When a man goes to wage Jihad, his wife does not say 'Don't go' or try to stop him. She encourages and supports him. She is the one who prepares his equipment, bids him farewell, and welcomes [his Jihad]."
More here.