And to think that many supporters of Israel actually voted for Obama.
UPDATE: DM sends the following from the Weekly Standard
"Why would anyone think he was an anti-Semite?

Here the testimony of the Jewish community that knew him best is most useful: Nebraskans. And the record seems unchallenged: Nebraskan Jewish activists and officials have said he was hostile, and none—including Obama supporters and Democratic party activists—have come forward to counter that allegation."
http://www.weeklystandard.com/blogs/mr-hagel-and-jews_693993.html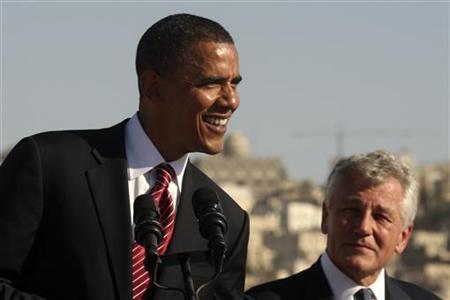 Fight looms over Defense pick Chuck Hagel
David Jackson, Tom Vanden Brook and Aamer S. Madhani, USA TODAY9:39p.m. EST January 6, 2013
0 CommentsShare
Choice of GOP's Hagel seen as controversial within his own party.
WASHINGTON — President Obama's choice of former GOP senator Chuck Hagel to lead the Defense Department likely sets up a contentious nomination fight in the Senate.
Obama plans to nominate Hagel today to lead the Pentagon as Defense secretary, according to two officials familiar with the nomination process. Both officials spoke on condition of anonymity because it had not been officially announced.
Senate Minority Leader Mitch McConnell, R-Ky., declined Sunday to endorse his former Senate colleague, saying only that whoever is nominated will get a thorough vetting. "I'm going to take a look at all the things Chuck has said over the years," McConnell said on ABC's This Week. "I'm going to want to see how the hearings go."
Hagel, 66, served two terms in the Senate, representing Nebraska from 1997 to 2009. He led an Army infantry squad in Vietnam in 1968. He was wounded in action there and received two Purple Hearts.
Hagel, if approved by the Senate, would succeed Leon Panetta and would inherit a military frayed by more than a decade of war and facing at least $500 billion in spending reductions over the next decade. It is also shedding about 100,000 soldiers and Marines.