The Sunni-Shiite divide can't be seen any clearer than in Iraq.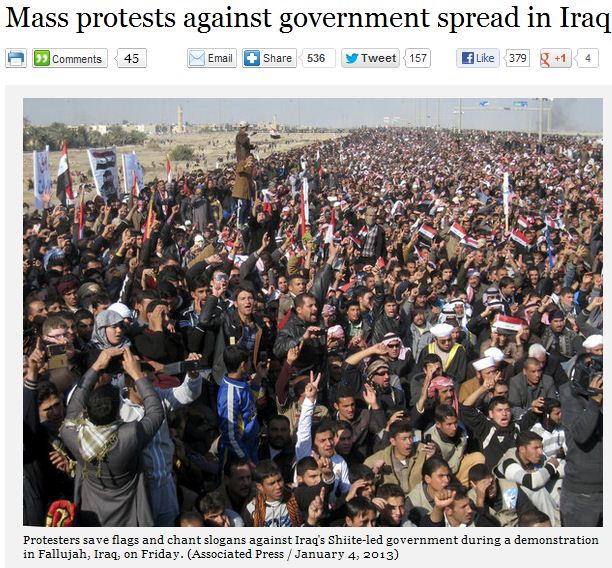 By Emily AlpertJanuary 4, 2013, 12:35 p.m.
Tens of thousands of protesters rallied across Iraq on Friday, charging that Sunni Muslims had been disenfranchised under the Shiite-led government of Prime Minister Nouri Malikiand pressing for detainees to be freed.
Protests have raged for weeks and continued even after the Iraqi justice ministry freed nearly a dozen female prisoners and said it would transfer others to jails closer to their homes. The unrest has spread from Anbar province, where infuriated protesters have blocked a key highway, to other Sunni strongholds across northern and western Iraq.
"How much longer will our children stay in prisons for no other reason than being Sunni," a man who gave his name as Abu Abdullah told Agence France-Presse at one demonstration in Baghdad, where protesters hoisted banners calling for anti-terror laws to be repealed.
Former Prime Minister Iyad Allawi, one of Maliki's chief opponents, called for him to step down in a statement read on Iraqi television, Bloomberg reported Friday. The push against Maliki has also been bolstered by powerful Shiite cleric Muqtada Sadr, who reached out to the protesters Friday by joining in prayer at a Sunni mosque, according to the Associated Press.