What's the surprise in an Islamonazi saluting an Islamonazi?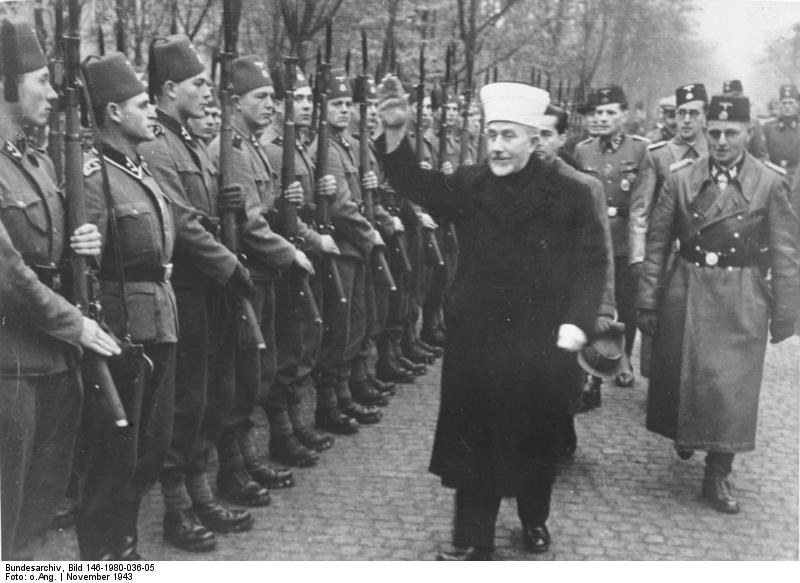 Abbas Salutes Hitler-Supporting Mufti, Terrorists in Anniversary Address
Palestinian Authority President Mahmoud Abbas paid tribute to World War II era Hitler-supporting Mufti Haj Amin al-Husseini as well as several known terror leaders responsible for the deaths of Israelis at a rally in Gaza City Friday that marked the 48th anniversary of the political party Fatah.
During the televised speech, made to a crowd of hundreds of thousands, Abbas made mention of, among others,  Abdel Aziz Rantisi, Sheik Ahmed Yassin–both former leaders of Hamas assassinated by Israel for their role in terrorizing the Jewish state-and Marwan Bargouti, who is currently serving time in an Israeli prison for his role in the deaths of five Israelis.
This was Fatah's first such rally in the territory since a 2007 coup by Hamas ousted the party from power. In his speech Abbas addressed the division, saying that reunification was near. "Soon we will regain our unity," he said of the two sides, which have drawn closer since the end of the eight-day November conflict, Operation Pillar of Defense, that pitted Israel against Hamas.
"The success of the rally is a success for Fatah, and for Hamas too," said Hamas spokesman Sami Abu Zuhri. "The positive atmosphere is a step on the way to regain national unity."
Abbas, who is not allowed to enter Gaza, but who was given permission by Hamas to stage the rally and address the crowd, said he would soon return to Gaza and that unification with Hamas would be  "a step on the way to ending the (Israeli) occupation."