Yet another reason why Christian and Jews should reject any further control of J'lem by any Muslim authority whatsoever. They simply treat anything non-Islamic, from the ancient to the present day, as something to be done away with.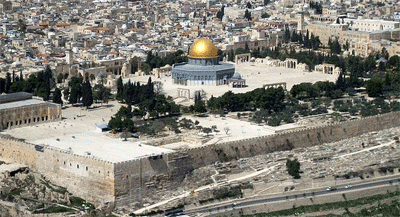 Temple Mount authority reportedly carts off antiquities to the dump
Despite High Court ruling, mounds of earth excavated from Jerusalem holy site go unexamined by archaeologists
The Muslim authority managing the Temple Mount on Sunday dumped tons of unexamined earth and stones excavated from the holy site into a municipal dump, in violation of a High Court injunction, Maariv reported on Monday.
Israel's top court in September 2004 prohibited removal of earth from the Temple Mount and ruled that, should it be necessary, the Antiquities Authority must be notified a month in advance so it may examine the earth for artifacts.
Jews regard the Temple Mount as their holiest site, where the First and Second Temple were located. Muslims call it the Noble Sanctuary and regard it as their third holiest site after Mecca and Medina. According to the existing arrangement, the Jerusalem Islamic Waqf, or trust, administers the Temple Mount complex.
More here.