We shouldn't be surprised that Obama wants this faux Republican for the job of Secretary of Defense, he's a Democrat in Repub clothing who represents much of what Obama is all about, an out of his depth, ignoramus statist. He's not a conservative. He is out of his depth on foreign affair issues, gets it all wrong on Iran, and is no friend of Israel regardless of the lip service given.
NOTE: Anyone who would refuse to place Hezbollah on list of terrorist organizations, doesn't deserve a top post like this. Period. (h/t: DM)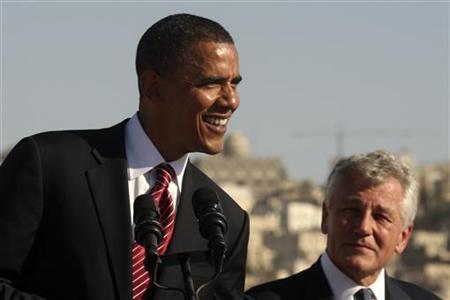 Obama defends Chuck Hagel
Posted by Sean Sullivan on December 30, 2012 at 9:02 am
President Obama defended former Nebraska Republican senator Chuck Hagel in an interview that aired on Sunday morning, praising the man reportedly under consideration to be the next secretary of defense.
"Not that I see," Obama said in an interview on NBC News's "Meet The Press" when asked by host David Gregory is there is anything that would disqualify the former senator from running the Defense Department. "I've served with Chuck Hagel. I know him. He is a patriot. He is somebody who has done extraordinary work both in the United States Senate. Somebody who served this country with valor in Vietnam. And is somebody who's currently serving on my intelligence advisory board and doing an outstanding job."
Hagel has come under criticism from gay rights activists for comments he made in 1998. At the time, Hagel said an  "openly aggressively gay" diplomat might be an ineffective representative of American values.
The former senator recently retracted the remark, prompting the nation's largest gay rights group to express its appreciation. Obama, who emphasized that he has not made a decision about who he will nominate to be the next secretary of defense, noted Hagel's apology.