Who would have thought such a headline possible five years ago?
Nothing gives a side more resolve to fight to the end, than the knowledge that the opposition will murder you in cold blood if you fall into their hands. The below picture is of the Syrian Free Army in full regalia and with Nazi hand salutes.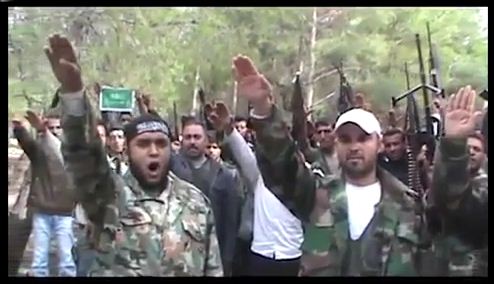 Assad's forces push to retake Damascus suburb
By REUTERS
12/31/2012 14:35
Five people killed including one child, in what activists say is biggest attack on Daraya as troops try to recapture area from rebels.
PHOTO: REUTERS
AMMAN – Heavy fighting raged on the outskirts of Damascus on Monday as elite troops backed by tanks tried to recapture a strategic suburb from rebels in one of the largest military operations in that district in months, opposition activists said.
Five people, including one child, died from army rocket fire that hit Daraya, the activists said. Daraya is one of a series of interconnected Sunni Muslim suburbs that ring Syria's capital and have been at the forefront of the 21-month-old revolt against Syrian President Bashar Assad.
"This is the biggest attack on Daraya in two months. An armored column is trying to advance but it being held (back) by the Free Syrian Army," said Abu Kinan, an opposition activist in the area, referring to a rebel group.
He said that tens of thousands of civilians had fled Daraya during weeks of government assault but that 5,000 remained, along with hundreds of rebels. Daraya is located near the main southern highway leading to the Jordanian border 85 kms to the south.
Activists said the military is trying to push back rebels who have been slowly advancing from the outskirts of Damascus to within striking distance of central districts inhabited by Assad's Alawite minority sect.