This ought to make 2013 an interesting year.
Robert Spencer at JW has a good piece on it, follow it here.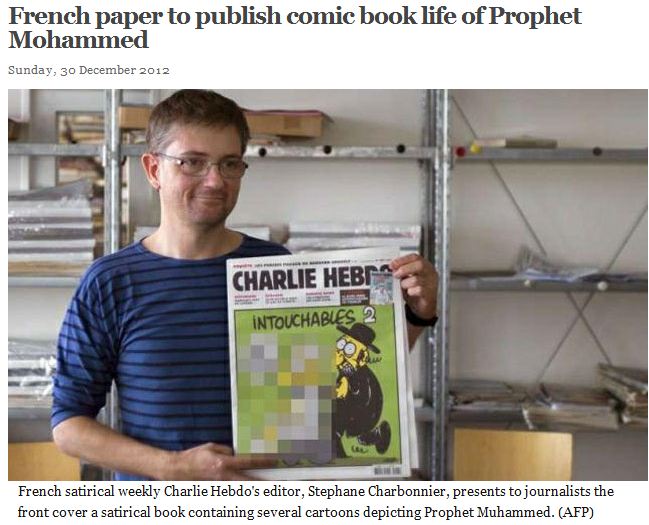 A French weekly known for publishing cartoons of the Prophet Mohammed to the ire of conservative Muslims said Sunday it plans to release a comic book biography of Islam's founder that will be researched and educational.
Satirical newspaper Charlie Hebdo has on several occasions depicted Islam's prophet in an effort to defend free speech and defy the anger of Muslims who believe depicting Mohammed is sacrilegious.
"It is a biography authorized by Islam since it was edited by Muslims," said Charlie Hebdo's publisher and the comic's illustrator, who goes by the name Charb.
"I don't think higher Muslim minds could find anything inappropriate," Charb said.
The biography will be published Wednesday and was put together by a Franco-Tunisian researcher known only as Zineb, Charb said.
The publisher said the idea for the comic book came to him in 2006 when a newspaper in Denmark published cartoons of Mohammed, later republished by Charlie Hebdo, drawing angry protests across the Muslim world.
"Before having a laugh about a character, it's better to know him. As much as we know about the life of Jesus, we know nothing about Mohammed," Charb said.
More here. Via Jihad Watch