Boo hoo. 
I won't be losing a drop of sleep over the conviction of these islamopirate terrorists.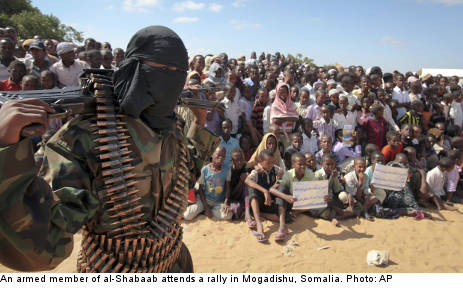 'Swedes did not commit crime against America'
Published: 24 Dec 12 10:17 CET | Print version | Double click on a word to get a translation
Mystery enshrouds the trial against two Swedish citizens charged with a series of terror crimes in a New York court, with no connections established between the alleged crimes and the United States.
The two Swedes, aged 27 and 29, appeared in a federal court in Brooklyn, New York on Friday on charges that they had trained and fought with Somali group al-Shabaab.
It is not clear why the case is being brought in the United States. The FBI claims they are "real terrorists".
The 29-year-old's lawyer said that the defendants have not committed any crimes against America.
"American authorities believe that al-Shabaab, which has been designated as terrorists by the United States, propagates its activities on the internet and therefore 'affects American foreign trade'. In that case more or less anything falls within American jurisdiction," lawyer Ephraim Savitt told the TT news agency.
He confirmed that the Swedes were recruited by al-Shabaab but claims that they were on the run from the militant organization at the time of their arrest in Djibouti last summer.
According to the New York Times, the two Swedes and a 23-year-old man who was controversially stripped of his British citizenship this year were on their way to Yemen.