He's a serial liar.
He lies so much and passionately, that it's a given that he actually believes his own made up BS.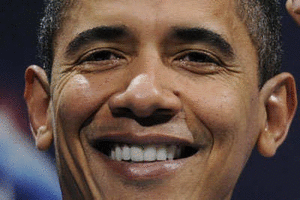 AUDACIOUS: OBAMA FABRICATES STORY ABOUT WHEN INOUYE INSPIRED HIM
Last Saturday, when President Barack Obama spoke at the funeral of Sen. Daniel Inouye, the Democrat and World War II hero who had represented Hawaii, he audaciously told a tale about when Inouye first inspired him that directly contradicted another fib from his memoir, 

Dreams From My Father. 
Obama said Inouye inspired him when he watched the Watergate hearings with his mother "every night" in motels as they were touring across the United States one summer in his youth.
As Jack Cashill noted at The American Thinker, though, "this story would work only if Obama had toured the United States during the summer of the Watergate hearings, 1973, when he was eleven years old going on twelve, but in his memoir Dreams from My Father, he tells another story–a much more specific one.":
Yes, he made the same trip, but he did so "during the summer after my father's visit to Hawaii, before my eleventh birthday." This would have been 1972, when Watergate was still a third-rate burglary that had gotten little media traction.

In Dreams, Obama mentioned a Kansas City stop along the way, and Madelyn's youngest brother in suburban KC would later provide photographic evidence of the same. He confirmed the year as 1972. This disparity did not stop Obama from relating in Dreams how in that elusive summer he "watched the Watergate hearings every night before going to bed." There was no mention of Senator Inouye. He was apparently trying to make some other point.
[..]
So, in essence, Obama fibbed about watching the Watergate hearings with his mother in his composite memoir. And then used the false–and debunked–timeline from his memoir to conveniently tell another tall tale about when Inouye inspired him. 
And Obama did this as he was honoring Inouye at his funeral.