A step against misogynist Islam
And the Feminists and the rest of the Left are in a funk on what to do. How about doing the right thing, and voicing disapproval over anti-liberal notions no matter where they are coming from?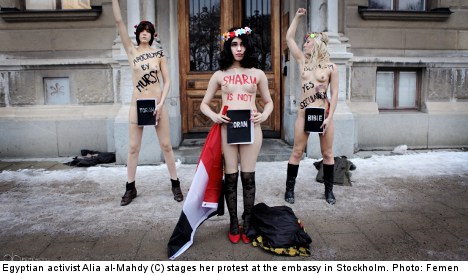 Nude demo in Stockholm against Egyptian leader
Published: 20 Dec 12 16:08 CET | Print version | Double click on a word to get a translation
Egyptian activist Aliaa al-Mahdy chose Sweden for her latest feminist protest as she bared all outside her country's embassy in Stockholm despite sub-zero temperatures.
Al-Mahdy, who as part of the feminist network Femen has employed nudity as a shock tactic before, wanted to protest the new Egyptian constitution that was voted through on Saturday.
A second referendum on the document is scheduled for Friday, but it is widely expected to be adopted.
"Before the decisive day of the referendum in Egypt activists came to the Embassy of Egypt in Stockholm to support Egyptian heroes who are resisting the sharia-dictatorial draft of the constitution of the president Morsi," Femen said in a statement published on its website.
Holding a Koran in front of her privates, al-Mahdy was joined by two other women outside the embassy on the posh waterfront avenue Strandvägen in central Stockholm.
Body painting scrawled across the women's chests read "Sharia is not a constitution" and linked the apocalypse to Egyptian president, who represents the Muslim Brotherhood party, citing fears that the constitution would impede Egypt's democratic development.