Norway continues to cast its lot with the extremists.
He's controversial alright, but only in the West (with the exception of Norway). And Norwegian universities had "a problem" with US leftist pro-Israel Harvard law professor, Alan Dershowitz denying him a proper forum to speak out against irrational anti-Israel behavior. Anyone else see the assploding hypocrisy here, or is it just me?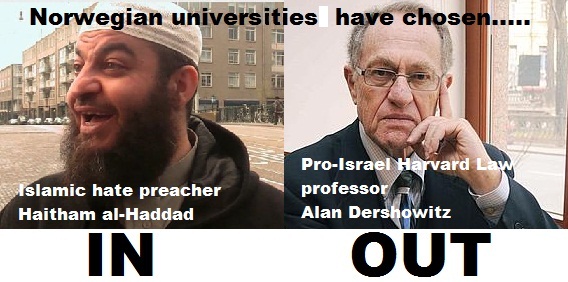 Controversial Islamic preacher to visit Oslo
The controversial British Islamic preacher Haitham al-Haddad will, Friday 21 December, hold a lecture at Oslo University College
He is well known for derogatory statements about Jews, women and gays.
It is Islam Net who has invited him to Norway. He will talk about how Muslims can live in a modern society. This weekend he will attend a course at a secret location. But first, he will give a lecture at the Oslo School.
Dean Kari Toverud Jensen at the University of Oslo and Akershus think its okay, according to the newspaper VG.
– We have chosen to let Islam Net borrow an auditorium for their scheduled meeting even if one of the invitees represent views and values that we as an academic institution deplores and condemns, she says.