Islamic fundamentalist sent to prison for saying publicly what is preached daily at al-Zahar, the most influential Islamic 'learning' facility in the world? Go figure. Then again, it won't matter, he'll be soon kicked once sharia is the de facto law of the land. This woman and others like her will soon be tossed in the clink, or worse.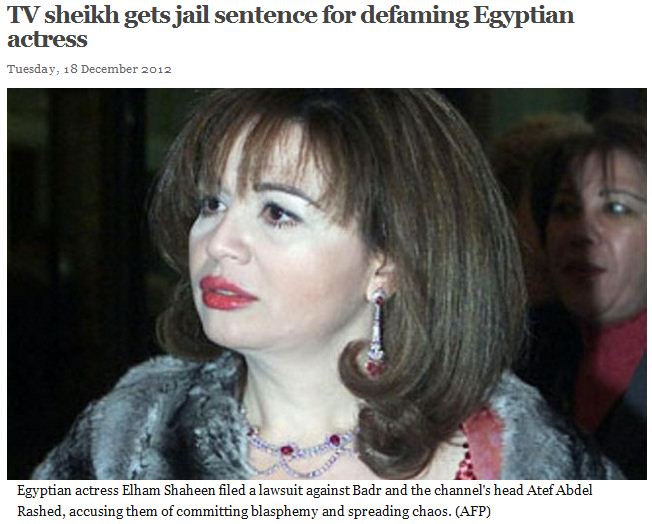 An Egyptian court sentenced Islamic preacher Abdullah Badr on Monday to one year in prison and set the bail at 20,000 Egyptian pounds (U.S.$3242.48) for defaming prominent Egyptian actress Elham Shaheen, Egyptian's daily Al-Masry Al-Youm reported.
Badr, a professor of Interpretation and Quranic Sciences at Egypt's Al-Azhar Mosque, accused Shaheen of committing indecent acts in her movies and wearing seductive clothes that incite immorality.
He criticized the actress during his TV show on the Egyptian El-Hafez channel, saying that "Elham Shaheen is cursed and she will never enter heaven," local Egyptian media reported in November.
In response, Shaheen filed a lawsuit against Badr and the channel's head Atef Abdel Rashed, accusing them of incitement, spreading chaos, disturbing public security and committing blasphemy.
More here. VIA TROP