I'm telling you, the more Muslims move into the area, the more likely your civil liberties will be at risk.
H/T: Fjordman via Jihad Watch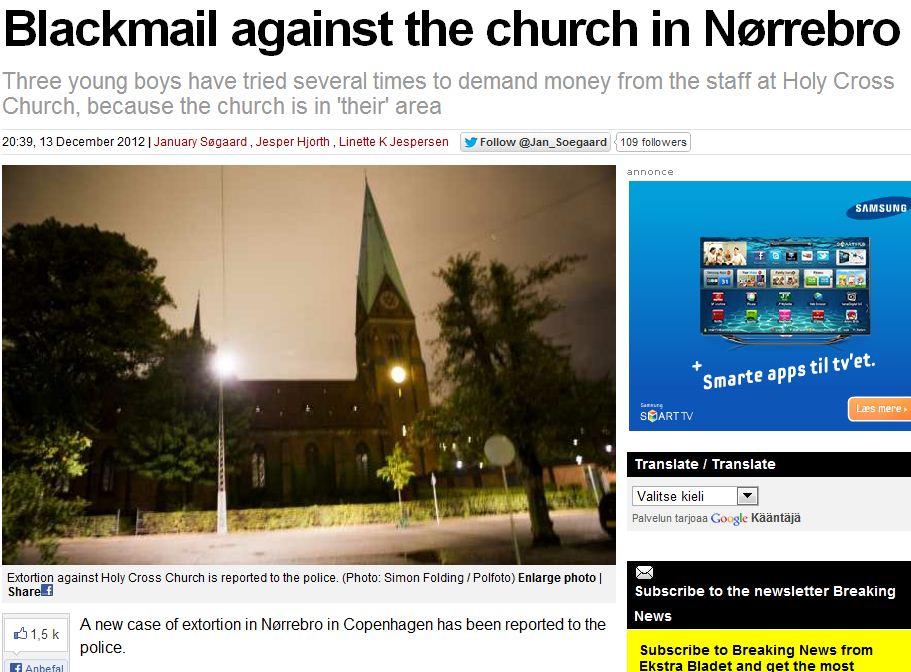 A new case of extortion in Nørrebro in Copenhagen has been reported to the police.
This time the claim is not directed at a tavern, but at a local church.
In the same town as in August of this year, in the case of the Café Viking outrage when the courageous owner, Jane Pedersen, came up against bullies and went public after threats and vandalism.
'This is our territory'
Now it's gone beyond, at Holy Cross Church on Chapel Road in the heart of Nørrebro, a few hundred meters from Blågårds Square.
Three young boys met up twice this week at the rear entrance to the church. Here they notified that the church was in their territory and that should pay some money.
Read also: Gangs extorting at least 11 business people
Mikkel Gabriel Christoffersen, president of Private Rights Council in Blågårds Parish, confirms to ekstrabladet.dk that the church has reported the matter to the police.
– Three teenage boys visited our employees on Tuesday and Wednesday and asked for money, because the church is in 'their' area.They were clearly told no, and since we have not seen more of the boys, says Mikkel Gabriel Christoffersen.
– We have filed a police report, and now we await the police assessment, said the chairman.
More here. (In Danish)