Fa-la-la-la-la, fa-la-fel
Gee, has it already been two years since the juiced-up-on-jihad suicide bomber had his work accident in the streets of Stockholm……?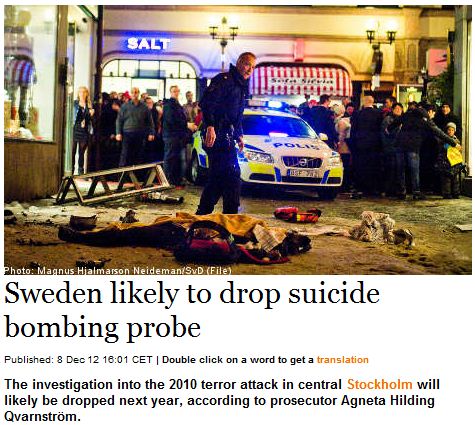 Qvarnström told Sveriges Radio (SR) that a decision will be taken in early 2013 about whether a prosecution can be filed or whether the case should be dropped. The latter is the more likely scenario, said Qvarnström, but she did not want to go into any further detail.
"Once a decision is made I will tell as much as possible about our work, what conclusions we have drawn and what the situation looks like," she said.
It was on Saturday December 11th in 2010 that the 28-year-old Iraqi-born Swede Taimour Abdulwahab made his way to Drottninggatan in central Stockholm, at the height of the Christmas shopping season.
He carried 13 kilos of explosives in a backpack and another four kilos around his waist. Abdulwahab set off two explosions but was the only fatality of the twin blasts. Two bystanders were injured.
An FBI investigation later showed that between 30 and 40 people could have died had the suicide bombing not been botched.