He lies because that is what left does, lie, and brazenly.
It's also because he a shmuck.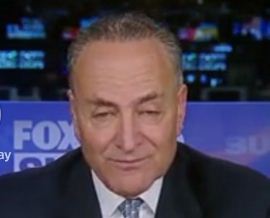 Sen. Chuck Schumer (D., N.Y.) tells Chris Wallace on Fox News Sunday that the filibuster is overused, and the 60-vote requirement should be reserved for major judicial nominees and major legislation, like the Affordable Care Act. Wallace points out that the ACA, in the end, passed with 51 votes under reconciliation. click here for the vid. Via Weasel Zippers.
NOTE: This major entitlement program passed by a Democrat vote only, using a seldom used senate house rule, by a congress that doesn't even exist anymore. And the majority of Americans still want it repealed. Also, The Great One, Mark Levin coined the term used in the headline to this post.