Another failure in the making.
Ben Zyskowicz (Kok) tries to defend his colleague from the SWC's charges, and diffuse the situation on the homefront. How about the words he spoke being antisemitic Ben?
UPDATE: In a Iltalehti story naming the TT, Salolainen is calling it a "roskahöpöjuttu" issue or in the king's plain English, a "trash, nonsense story". He says that:
"it's a wonder that in Finland one can not analyze the policy of the United States".
Sure go ahead Pertti, just don't use ancient antisemitic stereotypes of Jews while doing it. Oh, and to the folks at Iltalehti, it's the Jerusalem Post, not Israel Post.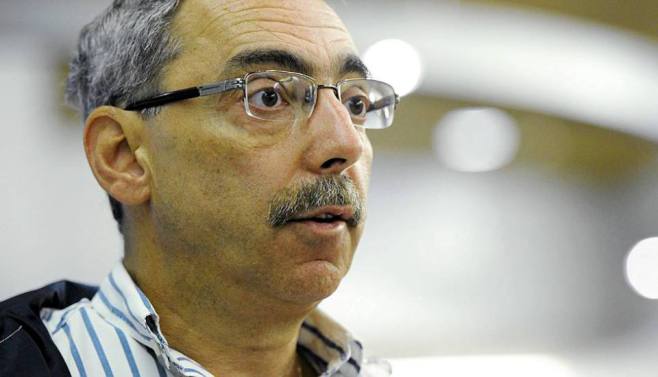 This is pure politics. If the politician happened to have been The Finns, Timo Soini who had   a "failure" in his choice of words, he would have been condemned by not only the Kokoomus party MP, Zyskowicz himself, he would have had the entire political establishment and the media on his neck, and rightly so.
I happen to think of B.Zyskowicz as a good person, and an able politician, but in my opinion, he's falling on his sword here for party politics, called saving face and covering your ass. It also might come fom some basic ignorance as well, as a close friend points out:
B.Zyskowicz fails to understand what antisemitism is and obviously does not comprehend that men are judged based on whatever bullshit comes out of their mouths or pens.

Pertti Salolainen might be a wonderful guy who loves Jewish culture, but to say that a) Jews control the media and b) Because Jews control the media there is no chance for peace i.e. those cunning Jews do not want peace, we can safely conclude that his statement was antisemitic.

It's actually quite possible that Salolainen does not think of himself as an antisemite. I don't think he hates Jews, but he clearly holds some antisemitic views.
Like I said, a part-time antisemite, and there are many forms of them. The kind that my friend mentions, like Salolainen, as well as those who use a fake humanitarianism, like Holocaust memorial commemorations, to cover for their deep dislike for Jews, which is exposed by their open hatred for the Jewish state of Israel.
NOTE: As for the SWC's demands for him to be removed from office, what else should they require after a notable politician makes such an outrageous statement, that unfortunately too many of his fellow countrymen (example: nasty comments to all the Finnish articles) actually believe to be true?
Zyskowicz on Salolainen's comments on Jews: "It is not true"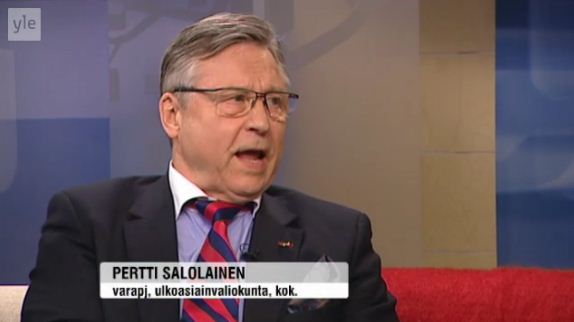 IltaSanomat: Conservative Party Member of Parliament Ben Zyskowicz deems the comments on Jews by his fellow party colleague a misguided choice of words.
Vice-Chairman of the Committee on Foreign Affairs of Finland Pertti Salolainen referred to U.S. influential Jewish population on the Yle Morning TV debate, which, he said, "that the media, as well as the money is in their hands." According to Salolainen, this makes the Middle East policy of the country difficult to be neutral .
– Of course, the statement is a simplification. His word choice in the discussion in my opinion was a failure. I think he was mistaken to use this kind of wording, Zyskowicz says.
– It is true that the United States has a strong Israel lobby, with lots of religious Jewish circles and involved, and that a large number of Jews in the financial markets and the media. But no one can argue that the money and the media are in the hands of the Jews, that's not true.
Zyskowicz also points out that those who working in those fields, like other Jews, have different opinions.
– It is completely wrong to assume that they would be like-minded with each other. In the United States there are many Jewish journalists and editors, who have conflicting views on the Middle East issues.
Zyskowicz, a religious Jew emphasizes, however, that you should not deem Salolainen's words as a sign of intolerance. Previously, the  Simon Wiesenthal Center specializing in hunting Nazi criminals, demanded that Salolainen be fired for the anti-Semitic words.
– Pertti Salolainen in not in any case an anti-Semite or a racist. On the contrary, he is very tolerant and equitable person to all minorities, Zyskowicz declares.
– I've known him for over 40 years, and I can truly say that from the heart, he has not shown any kind of anti-semitism.
Zyskowicz also surprised by the Simon Wiesenthal Centre's demand that the Finnish Government take up the matter of Salolainen.
– Their demands are quite extravagant. This shows that they do not understand Finnish political system. The Board of Directors or by the Finnish authorities do not take a position on the Finnish word forms used by politicians, not to mention that the government was somehow responsible for what individual politicians say.