This is how they usually end up.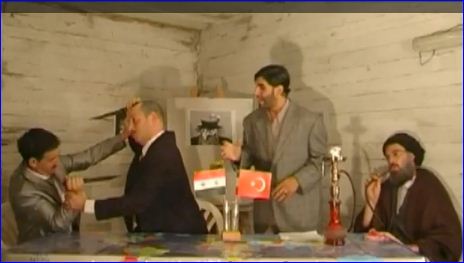 Surprisingly enough Erdogan's not coming by way of a flotilla, to bad, it would give me great delight in knowing he would have to disembark at Ashdod harbor under the trained guns of the IDF.
Turkey's Erdogan plans to visit Gaza with Mashaal next week
By JPOST.COM STAFF
11/28/2012 12:14
Turkish prime minister says Hamas leader invited him to join Gaza visit after previously planned trips were cancelled; Egypt gives preliminary approval for Iranian lawmakers to visit the Strip.
PHOTO: REUTERS
Turkey's Prime Minister Tayyip Erdogan said on Wednesday that he plans to visit Gaza next week, Turkish paper Today's Zaman reported.
Erdogan said he was invited to join Hamas leader Khaled Mashaal's visit to Gaza on December 5, Today's Zamanreported.
The Turkish prime minister has expressed willingness to visit Gaza several times in the past. Earlier this month, Erdogan told reporters he plans to visit Gaza soon, and that Turkish officials are conducting talks with officials in the Strip in order to make the trip happen, according to Today's Zaman.
Erdogan announced plans to visit Gaza in July and again in September of 2011, both times canceling the trip that would have surely irked the Israeli government. Israel and much of the West designate the ruling Hamas government in Gaza as a terrorist organization.