Oh the irony of it all, on the eve of when Norway betrayed its Jews during WWII
Finland had its own version of NRK's hit job on Israel, when the Finnish state broadcaster, YLE, made it clear that facts would not get in the way of its debate. YLE wanted pure emotion, which came fully from the Palestinian side, and were given more than ample time to spread it and the propaganda. How could we not expect the same from NRK, and on steroids?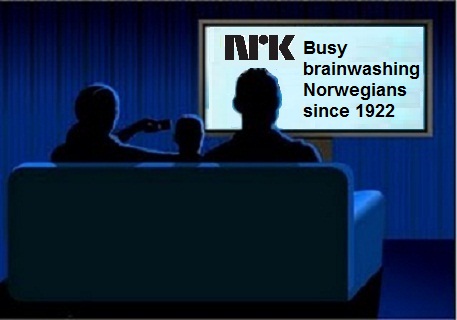 An NRK TV debate – a Willoch platform pushing the anti-Semitic cart ahead of him, on the eve of the 26th of November commemoration of Norway's betrayal of Norwegian Jews
November 22, Norwegian state owned TV, NRK, broadcast a debate with a panel of two pro-Palestinian and two pro-Israeli participants and where also Norways new Foreign Minister, Espen Bath Eide, participated. In the audience was Israel ambassador, Naim Araidi, and infamous Israel basher Kåre Willoch.
Not speaking Norwegian, Naim Araidi could hardly participate in the debate, but he did answer some harmless queries in the introduction of the debate.
The plan was that Araidi should also end the debate, but that did not happen. Because of time shortage (and symptomatic for NRK) the debate was instead concluded by Kåre Willoch! Thus the Israel-hater, not even on the panel, got the last word.
The audience was totally dominated by pro-palestinian sympathizers, the whole audience applauding a speech from Bjørn Moxnes from the political party "Rødt" (Red). In contrast, when, for example, Sarah Abraham pointed out that in Israel it is a tragedy when children in Gaza are hit by Israeli fire, while in Gaza it's cheers and cakes when Israeli children are killed, she got applause from only one single individual in the audience, an arrangement in true NRK spirit.