Saudi Arabia, a place where on can still visit the seventh century, and not be in a museum.
The technology has changed, but the reality hasn't.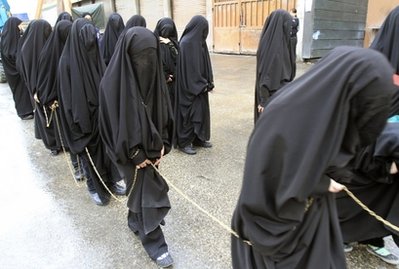 Saudi Arabia unveils system of 'electronic tracking' for women
Saudi Arabia has instituted a new system that sends a text message to the "male guardian" of any women who leaves the country. Reports of the new system emerged, ironically, on Thanksgiving Day.
Manal al-Sharif — who became the symbol of a campaign women's right to drive campaign launched in 2011 — began posting information of the new system on Twitter, after she was alerted by a couple.
The couple who alerted al-Sharif was travelling toegether. As they did, the husband received a text message from immigration authorities informing him that his wife had left the international airport in Riyadh.
While details are sketchy, it sounds like the service is not opt-in. Since the husband in the couple above was surprised by the SMS, he didn't have to "sign up" to get the message.
It doesn't seem like the tracking is carried out using a tracking device on the person of the woman, at least. Instead, it seems that the immigration authorities simply text the "guardian male" on record when a woman leaves the country, manually.