Remember, for the anti-Israel Left, the ends do in fact justify the means.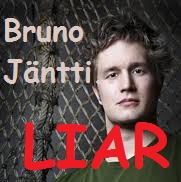 This is the same miscreant who arranged an anti-Israel hate-fest at the University of Helsinki. He invited the co-founder, Ali Abunimah, of the antisemitic / anti-Israel electric intifada, and Illan Pappe, serial screwball scholar who's is guilty of spreading anti-Israel propaganda throughout the academic world, whose largely responsible for the hatred and demonization of Israel that's a result of his "life's work."
NOTE: Pappe and his fellow revisionists have spawned a countless number of Bruno Jäntti's.
H/T: Vasarahammer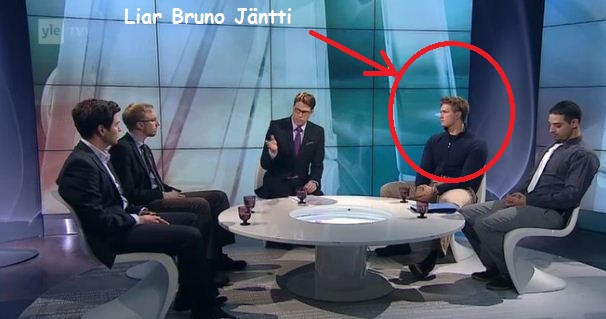 From the Uusisuomi blog, We are all  Africans:
The journalist asked questions directly from Jäntti if it is true that Hamas may have spread to the media images of the dead in Syria as the debate continued, the words are exactly as follows:
Bruno Jäntti: "It hardly needs commenting on"

Journalist: "Well comment, anyways now"

Bruno Jäntti: "They do not come from Syria"
The truth is something entirely different.
Hamas Uses Twitter to Advance False Propaganda Campaign, Posts Image of Victim From Syria
http://www.algemeiner.com/2012/11/15/hamas-uses-twitter-to-advance-false…
Particularly worrying and unacceptable is the fact that many of the news editors are responsible, either knowingly, or unknowingly guilty of spreading false information.
BBC's Gaza Correspondent Jon Donnison Tweets Picture of Syria Child Victim, Blaming Israel
http://www.algemeiner.com/2012/11/19/bbc%E2%80%99s-gaza-correspondent-jo…
More on the human rights organization ICAHD can be found here:
http://www.ngo-monitor.org/article/israel_committee_against_house_demoli…
A-studio: Talk segment 22/24
http://areena.yle.fi/tv/1710359/#/play