All bets on an Obama forced ceasefire are off. Israel will indeed invade. (as they should)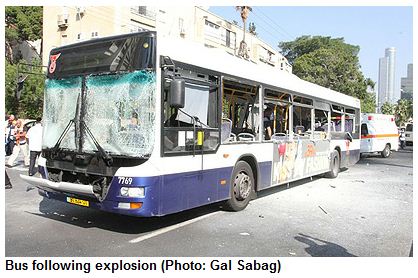 UPDATE: YNET has more here click here..
Terrorist blows up bus in central Tel Aviv; 10 injured
11/21/2012 12:08
Magen David Adom reports explosion on Tel Aviv's Shaul Hamelech Street, police confirm terrorist attack; at least 10 injured, at least three moderately to seriously; police searching area for other possible explosive devices.
PHOTO: SCREENSHOT CHANNEL 10
A terrorist blew up a bus on Shaul Hamelech Street in Tel Aviv around noon Wednesday.
Magen David Adom said that at least 10 people were injured, three moderately to seriously.
Police confirmed that the explosion was a terrorist attack, although Channel 2 reported that it was not a suicide bombing and thus police were searching the area for additional explosive devises.
Channel 2 reported that police arrested a suspect near the Ramat Gan diamond exchange, who they believe may be carrying an explosive device. Police believe a female terrorist may still be at large in the area, armed with explosives.
The wounded were being evacuated Tel Aviv's Ichilov Hospital.
The attack comes in the eighth day of IDF Operation Pillar of Defense in the Gaza Strip, which has seen hundreds of rockets fired into Israel, including four in the Tel Aviv area.