Khalid Ahmed: Wishing you dead is all a big joke!
The excellent Norway, Israel and the Jews blog has all the details, here is a portion of   McGonagall's post on NIJ.
UPADATE: In the comments: Mr Ahmed is NOT an MP, but a member of the local town council at Hamar.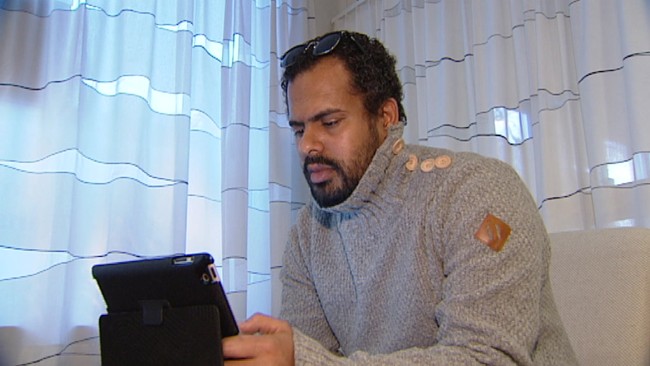 Labor MP Khalid Haji Ahmed hard at work dissing the Jews:
"Damn Jew whores (…) wish Hitler could come back and shower you a little more."
UPDATE: Khalid Haji Ahmed tries desperately to spin his antisemitic remarks, "it's all in jest!" :
– Jeg beklager at jeg ble kastet inn i dette, og jeg beklager også at det skapte så mye oppstyr. Det var ingen mening bak det jeg skrev, det var ment humoristisk, sier Ahmed til NRK.

– I regret that I was thrown into this, and I'm sorry that it caused so much fuss. There was no meaning behind what I wrote, it was meant humorously, says Ahmed told NRK.
NOTE: How "hoping for Hitler to come back and finish the job" could be considered humour, is beyond me. Another Muslim in Norway, Trond Ali Linstad wants Israelis murdered, almost received medal from Norwegian King.
Norwegian Muslim Labor politician serves anti-Semitic slurs on Facebook
November 20, 2012
By McGonagall
Abysmal translation from google translate… but you get the gist…
       Jews harassed on facebook
From Nettavisen today, November 20th

It says that Jews are being harassed on facebook by AUF members (youth labor party) AND Ap politician Khalid Haji Ahmed. As a reaction to the escalation of the conflict with Hamas.

On Monday afternoon, an AUF member shared this message on Facebook, according to Hamar Arbeiderblad.

"Damn Jew whores (…) wish Hitler could come back and shower you a little more."

The Facebook entry is a response to the escalating conflict between Israel and the Palestinians in Gaza.

The comment provoked a strong reaction, especially when AP-politician Khalid Haji Ahmed decided to join the debate. Instead of reprimanding the Labor youth politician who posted the harassment, he wrote a flippant, slightly sarcastic comment back to one of the participants in the discussion.

When asked why Ahmed did not take more distance from harassment, says Labor politician to Nettavisen that he often uses humor to promote/prove a political point.

 Lighted torches for all victims

– I know the young people, and in dialogue with young people use their language. I tried to say "Oh, good luck, then, if you want to do silly things," says Ahmed.

Ahmed says that he feels misunderstood, and that he really talked to the youngsters, but in a private chat, and not on his facebook wall. He also says to Nettavisen that the youth who posted the harassment is no longer a member of the Labor youth.

On Saturday, Ahmed participated in a ceremony where they lit torches for the 71 victims that had been killed in the ongoing conflict between Palestinians and Israelis.

– Three of the torches were for those who died in Israel, he said.

Khalid Haji Ahmed says he strongly opposes what was written on the facebook status

He says that he thinks it is wrong to judge people based on what religion they belong to, whether they are Muslim, Jew or Christian.