That this even needs to be addressed tells us what the state of affairs are (upside down) in this period of world history. The Globe and Mail editorial sends the right message in the first half, then wanders off the field with absurd notions that Israel is "wisely staying away from a ground invasion".
Wise, how so? In my opinion it's inevitable, if they want that is, a return to relative quiet that they achieved for at least two years after operation Cast Lead. Then there's the quip about Netanyahu's 'militancy of attitude' (when is it a negative to understand a threat, and implement policies to counter it?) and refusal to make  peace overtures with the PA, as if Israel hasn't tried everything under the sun already. If the Arabs refuse peace and a normal life with the Jews, how can you force a peace?
 The reason for printing this mixed batch of good and bad musings is that at least the paper is recognizing the fundamental right of the state of Israel to defend itself  where many other papers are just waiting for the chance to disparage the Jewish state for retaliation and, more than likely, what transpires after a ground invasion.
NOTE: The picture below is of an Iranian missile system launch pad called the Fajir5, that the Hamas has hidden within the short radius of a mosque and a school playground. WND has more. This is the mindset arrayed against the Jews, how can you reason with such savages?
H/T: J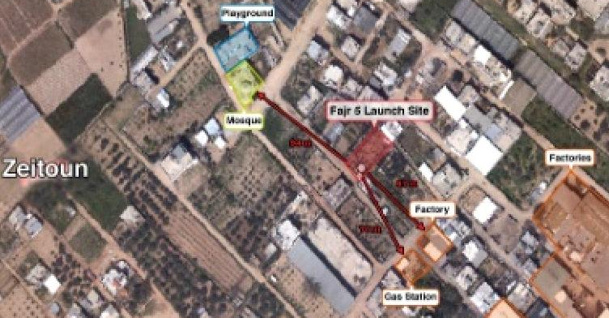 Israel's right of return fire
The Globe and Mail
Published Thursday, Nov. 15 2012, 7:30 PM EST
Last updated Thursday, Nov. 15 2012, 9:23 PM EST
Israel is right to be responding swiftly and forcefully to bombardment from Gaza. For months, the leaders of Hamas have been building up a more powerful arsenal with which to assault their neighbours. For years, factions in Gaza had sent rockets into Israel that for the most part did no great harm – a nuisance that was occasionally dangerous to Israeli civilians, but rarely inficted serious injury.
Recently, however, Hamas has gained more confidence and has become more ambitious in its purchasing of missiles. As an offshoot of the Muslim Brotherhood, it feels encouraged by that movement's increasing ascendancy in Egypt and other countries of the region. By sending many more, and more lethal, rockets into Israel, it cannot do any good for the inhabitants of Gaza whom they rule, or for other Palestinians. Their attacks are merely vindictive and narcissistic, but they are a serious threat to the people of Israel.
The Egyptian government, which relies on American money, is unlikely to give any practical help to Hamas, but these events put it in a difficult and amibguous position, which could lead to a substantial degradation of the politics of the Middle East.
Israel has so far wisely refrained from a ground offensive – let alone to a reoccupation – though it has moved troops toward its border with the Gaza Strip, and has called up reservists, quite properly to provide for contingencies. The Israeli Defence Force appears to be well informed on the locations of Hamas's armaments, and can do most of what it needs to do by way of aerial bombardment.