Turkey actually began its re-Islamization many years before with the death of Mustafa Kemal Ataturk, I just can't dismiss the findings uncovered by my friend Andy Bostom. The facts are what they are and let the chips fall where they may.
NOTE: I greatly respect and admire Dr.Pipes, this divergent understanding of the period of Turkey's Islamization should encourage a vigorous debate between these two scholars, as well as with their other worthy colleagues.
Golden quote:
The Turks, a nation of soldiers more disciplined than any other great Muslim people, were used to obey orders and now loyally followed the lead of their president as they had in the past accepted that of their Sultans. Agreement to, or at least acquiescence in, the secular reforms was made easier for them by Mustafa Kemal's judicious policy of introducing them one by one over a period of years. As far as nevertheless there was resistance to the changes, it was checked by Mustafa Kemal's authoritarian regime and in a few cases, such as the Kurdish rebellion of 1925, suppressed by draconian countermeasures.
Andy Bostom: But Heyd's own candid words, from the remarkably foresighted 1968 lecture excerpted at length, below, reveal another quality almost entirely absent from our present era's infinitely less substantial "academic experts" on Islam: self-critical humility, and the ability to express mea culpa. Taking his own measure, Heyd confessed—in 1968,
"Until a few years ago many foreign observers, including, I admit, myself, were inclined to think that this development [Turkey's re-Islamization] was no more than a renewed expression of sentiments which for a long time could not be freely manifested and that the overall process of secularization was going on very slowly but irresistibly. Today I doubt whether this view is still tenable."
The fact that 42 years later, today's far less astute "experts on Turkey and Turkish Islam, etc." nonetheless, offer no apologies for their distressingly belated recognition of Turkey's re-Islamization, adds insult to irony.
More here at Andrew Bostom's blog.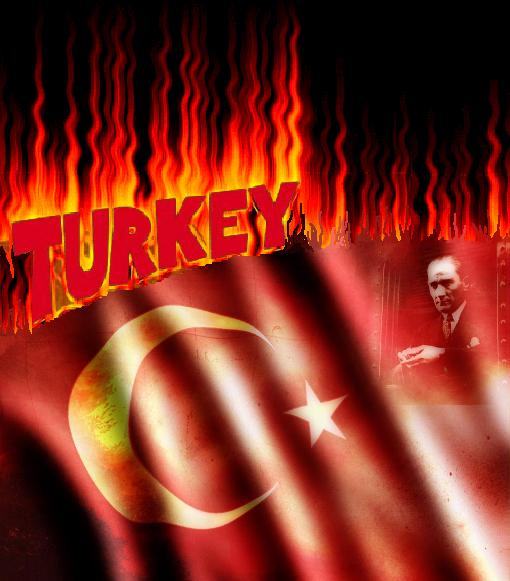 Turkey's Islamist Turn, 10 Years Later
by Daniel Pipes
The Wall Street Journal
Is Turkey—due to its size, location, economy and sophisticated Islamist ideology—set to become the West's greatest problem in the Middle East?
A tumultuous decade has passed since the Justice and Development Party was first elected to office on Nov. 3, 2002. Almost unnoticed, the country exited the pro-Western era started by Mustafa Kemal Atatürk (1881-1938) and entered the anti-Western era of Recep Tayyip Erdoğan (born 1954).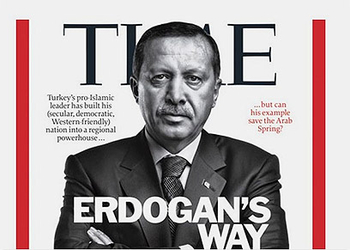 Turkish prime minister Recep Tayyip Erdoğan on the cover of Time magazine in 2011.
The 2002 election followed 10 years of back-and-forth between weak center-right and center-left governments. The 1990s also witnessed the country's first Islamist prime minister, Necmettin Erbakan, in power for a year before his ousting via a "soft" military coup in 1997. In retrospect, that period marked the interim between the death in April 1993 of Turgut Özal, the towering former prime minister and president, and Mr. Erdoğan's becoming prime minister in 2003.
It was a time of missed political opportunities, economic mismanagement and endemic corruption. The era was marked by the Susurluk scandal of 1996—in which the investigation of a provincial traffic accident led to revelations of government connections to the mafia and state-sponsored assassinations—and the government's inept response to a 1999 earthquake, exposing hitherto unknown depths of incompetence and callousness.
Such failings prompted the electorate to turn to the freshly formed Justice and Development Party, known as the AKP, less for its Islamist policies than for its promises of European Union membership, better democracy and more freedoms. Helped by an eccentric political system requiring parties to gain 10% of the vote to enter parliament, the AKP won 34% of the vote and controlled 66% of the seats in 2002.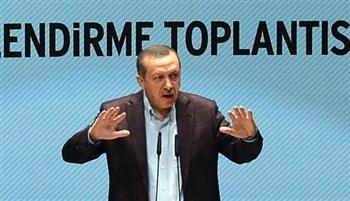 Erdoğan speaking at an AKP meeting on the 10th anniversary of its taking power.The electorate was apparently encouraged by the results—especially the Europe-like reforms and China-like economic growth—and rewarded the AKP with 47% of the vote in 2007 and 50% in 2011. The popularity allowed Mr. Erdoğan to entrench himself, his party and his ideology ("Minarets are our bayonets, domes our helmets, mosques our barracks, and the believers our army").