So the buying and selling of human flesh still lives on in the ME after all.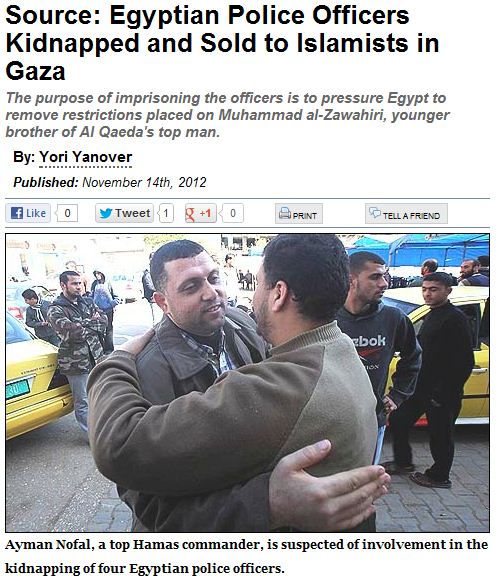 According to an Egyptian source, three Egyptian police officers and one senior police official who were kidnapped by gunmen in the Sinai in February, 2011, during the rebellion against former President Hosni Mubarak, are most likely being held by Palestinian terrorists in the Gaza Strip, Yoni Alpert's Terror Watch reports.
The four hostages are Mohammed Mustafa Johrei, Sharif Al Adawi, Mohammed Hussein Walid Saad El-Din.
Based on information obtained by sources associated with the Egyptian security system, and which has come to the attention of the kidnapped men's families, it appears likely that a force comprised of Bedouins and Islamist extremists kidnapped the officers close to the town of El Arish in the northern Sinai, while the officers were securing the Egyptian border with Gaza in Rafah. The same source speculate that the officers were later sold to the Islamic Army terror organization, headed by Mumtaz Durmush.
The Islamic Army, affiliated with the Salafi movement and the Global Jihad, is based in Gaza but also operates extensively in the Sinai. The purpose of imprisoning the officers for such a long time is to pressure the Egyptian leadership to release radical Islamists from prisons in Egypt, and to remove the restrictions on the free movement of Muhammad al-Zawahiri, leader of the Egyptian Islamic Jihad and the younger brother of Al Qaeda's top man.
More here. H/T: SL