Really folks, Norway is really beyond the pale.
The Jews are not impressed. It seems that everywhere you turn in Scandinavia, the political, cultural elite is taking it out on the Jews. Just today I published a piece on Norway's King Harold V who plans to award an antisemite a medal for public service, and in Sweden the Jewish communities in Malmö and Helsingborg refuse to participate in the Kristallnacht commemorations due to other parties' private agendas.
NOTE: This has gone well beyond parody, something more sinister is at work here.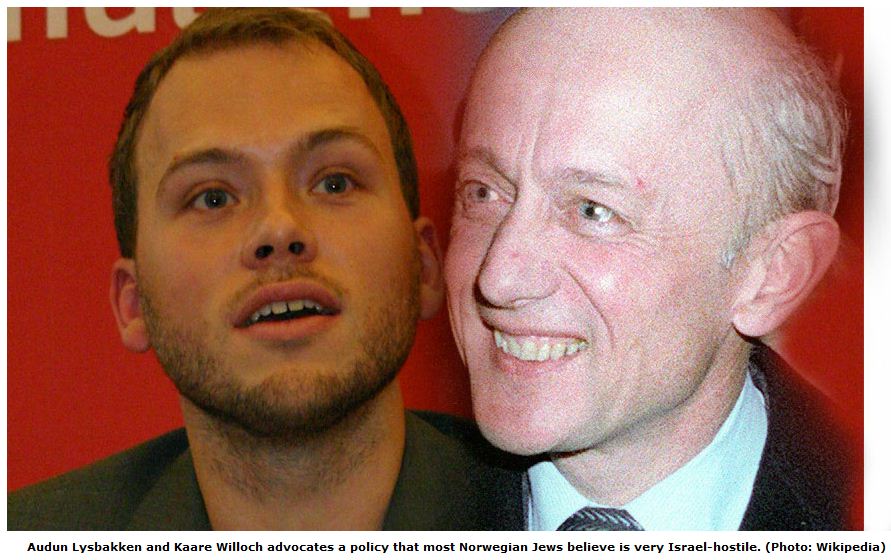 Source: With Israel For Peace (MIFF):
Published: 11.11.2012, kl. 3:22 pm Updated: 11.11.2012 kl. 3:28 pm
– A more inappropriate speaker could not have been elected to a commemoration of the Holocaust
Ever since the mid-1990s, the district Møhlenpris in Bergen hosted an annual march with torches in memory of Jews in the district who were arrested and sent to concentration camps during World War II. The Torchlight procession will be held on 26 november, the day when the cargo ship Donau went from Oslo with 532 Norwegian Jews.
After the torchlight SV leader Audun Lysbakken will speak at the "Human Rights Square", after which there will be a lecture by former Prime Minister Kåre Willoch in the Rafto-house. According to information from Møhlenpris district association, the event is supported by Bergen Municipality.
Boycott by Jewish musician
An American-Norwegian Jew who for years has participated in the event with Jewish prayers and an original for the occasion wriitten composition, chooses to boycott this year's event.
– I refuse to participate in the same program as Kåre Willoch. It could not have been chosen a more inappropriate speaker at a ceremony commemorating the Holocaust, writes the musician on his private Facebook page. He explains to his American friends in English that Willoch is "extremely anti-Israel, and has made some terrible anti-Semitic comments."
(Miff.no has written articles on how Willoch demonizes and spreads factual errors about Israel.)
It is not only from the west coast that experiences strong reactions to the election of Willoch speaking. "This is a punch in the stomach for us," said a Norwegian Jew in east Norway, not wanting to come forward with names.
Provocative
Reactions are directed not only on the choice of Kåre Willoch, but also to Audun Lysbakken. The party he leads is in favor of a policy that will end the world's only Jewish state.
– The composition of the program is at best tasteless and unmusical, according to Jan Rødner Benjamin, director of Miff and member of the Jewish community in Oslo.
– It is very provoking that people that so utterly appear as opponents of significant Jewish interests are invited to a program to remember – in a positive way for the victims – persecution of Jews during World War II, says Rødner.
He believes that a significant majority of Norwegian Jews perceive SV and Willoch policies not only critical of Israel, but Israel-hostile.
– If their policy was to be followed, it would lead to the destruction of Israel as we know it, says Rødner.
– When we consider that the lack of a Jewish state was a major reason why the Jews were arrested and sent out of Norway to die in concentration camps, it is outrageous that these two people will speak, saying Rødner.
– Similarly, the commemoration of Kristallnacht in Oslo was destroyed a few years ago when it was used by SOS Racism, he adds.
The criticism
Miff.no have received access to an e-mail where a member of the organizing committee defends the choice of Kåre Willoch speaking. The e-mail was sent to a citizen of the city of Bergen going to boycott the event.
– We have deliberately omitted to make the relationship between Israel and the Palestinians a component of this celebration because it is a conflict that splits and does not uniite, writes Gunnar Wiederstrøm.
He further writes:
'Over the years we have had appellants and speakers with quite different views on the state of Israel. Two years ago, the then county governor Svein Alsaker gave a speech. He has been a sworn friend of Israel throughout his adult life and in his speech he included a strong solidarity with Israel.

Another strong friend of Israel, Jo Benkow, held both an appeal and talks a few years back. Yes, I do not think we've had one appellant or speaker who is not hot a defender of the right of Israel to live within secure borders. But we also had appellants and lecturers over the years with far more critical attitude to how Israel seeks security, thus Kåre Willoch is not in a unique position.

It disappoint me that friends of Israel cannot exercise more tolerance towards people who may be critical of parts of the policies practiced by Israel. In some circles, unfrotunately, one seeks to equate criticism of Israel with anti-Semitism and so place Kåre Willoch and others in the booth with some of history's worst."
Also: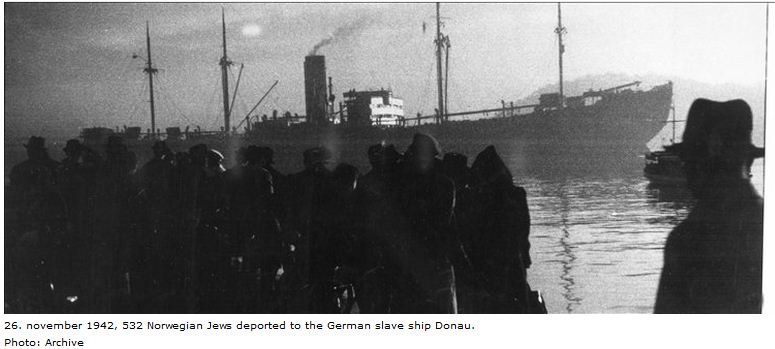 Wrong men in the wrong place
Is really Audun Lysbakken and Kaare Willoch the right ones to speak for the Norwegian Jews cause?
Dagen Skriver writes today about an upcoming event to mark the deportation of the Jews in Bergen. In the district Møhlenpris has since the mid-1990s, has been held annual torchlight procession in memory of the Jews in the area who was arrested and sent to Auschwitz during World War II. The celebration is held each year on 26 november, the day when the slave ship Donau DS went from Oslo with 532 Norwegian Jews, several of which were also from Bergen.
This year it is 70 years since that date, which is among the darkest in the history of Norway. But organizers' choice of speakers to highlight the disaster day for Norwegian Jews in Bergen, awaken now strong reactions.The invitees are namely SV leader Audun Lysbakken and ex-Prime Minister Kåre Willoch, both among the most prominent critics of Israel in this country.
Lysbakken is the leader of a party that advocates full boycott of the Jewish state. Nevertheless Willoch participation that fosters the strongest reactions.
January Rødner Benjamin, director of The Israel For Peace and a member of the Jewish community in Oslo uses very strong words about Willoch participation in the event. He characterizes it as "highly provocative" that a person who is so utterly emerging as a major opponent of Jewish interests are invited to an event to commemorate the victims of the persecution of the Jews. He stressed that it is okay to be critical of Israel, but Willoch think it's a particularly malicious way.
Rødner perceive it as Willoch at times leaning towards anti-Semitic views and points to the fact that ex-prime minister was critical that there was a Jew in Barack Obama's administration.
Organizers defends his choice of speakers that it concerns a selection against hatred of Jews, not for or against the State of Israel. We can understand the intentions behind such a desire, but still believes the organizers here have made a big mistake.
For Holocaust during World War II may in fact not be disconnected from the state of Israel. It was the Holocaust which historically was the basis that the Jews had their own state. And it was the lack of existence of such a state that enabled the Nazi genocide of Europe's Jews had such a fatal extent.
Against such a background it is of course totally wrong to invite two of the persons who appear to be the biggest enemies of Israel in the Norwegian public for such an event.
As far as possible, we choose to believe the organizers when they say that they would focus on what the case really is about – the genocide of the Norwegian Jews – and not the Middle East conflict. But if that is indeed the case, then forward the choice of speakers, if possible, in an eerie light. For the Willoch and Lysbakken the speaker list is the organizers guaranteed to achieve the exact opposite of what they wanted by his own words.
Now create a new event Battalion on the Middle East instead of contributing to a much-needed reflection on what it was that made that half of the Norwegian Jews during World War ended his life in Auschwitz.