The rebels use suicide bombers, executions of government workers and throw their bodies into hillside sewers, as well as shooting captured soldiers. These are the kinds of thugs Leftists deem 'democrats' and want us supporting. Eh, …no way José.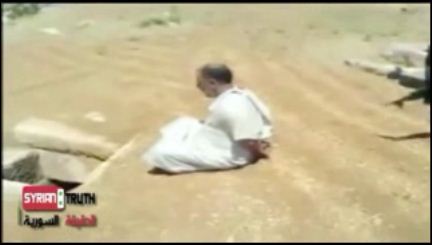 Syrian rebels bomb Damascus, kill 50 soldiers
By REUTERS
11/05/2012 16:41
After severe blow to Syrian President Assad's military, troops launch air strike on Idlib, killing 20 rebel fighters.
PHOTO: al-REUTERS
Syrian rebels launched two bloody attacks in Damascus on Monday, as bombs targeting troops loyal to Syrian President Bashar Assad killed at least 50 security men as well as 11 others, according to an opposition group. The violence was not limited to official Syrian personnel, however, as rebels also suffered a major attack when troops launched an air strike targeting the northwest province of Idlib, killing 20.
"A fighter from the Nusra Front blew himself up … At least 50 were killed," said Rami Abdelrahman, the head of the Syrian Observatory for Human Rights. "He drove his car to the center and then blew himself up. A series of explosions followed."