He's right.
Multi-party democracy has its pluses as well as its many pitfalls. There has to be a political system that doesn't reward minuscule parties that fail to receive wide public approval from continuously gaining seats in coalition governments. Here in Finland we see the far-Left, which regularly polls around 4-5% of the population, gaining two government portfolios, as in the case of the radical Paavo Arhinmäki.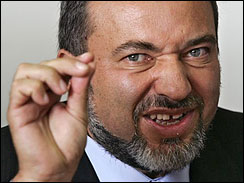 Liberman: Reduce number of parties, religion in public life
By JPOST.COM STAFF
10/26/2012 12:37
Discussing Yisrael Beytenu-Likud merger, foreign minister says Israel should have only 4 or 5 parties in Knesset, religion's role in public life should be lessened; early poll shows a loss of 9 seats for united party.
Foreign Minister and Yisrael Beytenu party head Avigdor Liberman on Friday described the future of Israeli politics and public life he hopes to help create in the wake of his party's merger with Prime Minister Binyamin Netanyahu's Likud, announced Thursday night.
The consolidation of the two parties, he explained, is a move toward changing the system of government in Israel by reducing the number of parties in the Knesset.
Admitting that Israel's political geography will never resemble the two-party dominiated political system of the United States, Liberman said Israel must move toward a future in which there are only four or five parties.
Addressing questions about the makeup of the still-fresh political rearrangement, Liberman clarified that the new party would be composed of "two factions on one list," describing it as a natural union.
"It is important that we build a wide, national camp," which traditionally, has Israel for many years, Liberman said.