Kicking the leftards out.
CRUSH EM' BIBI.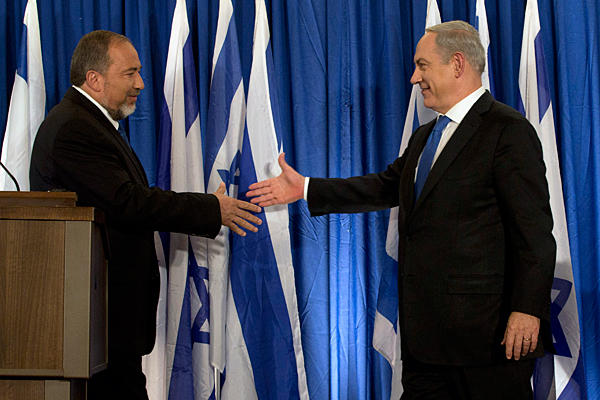 The long knives of the leftist media/politicians will be out for sure, mark my words, especially if they win big in the upcoming elections.
PM, FM announce Likud, Yisrael Beytenu union
By LAHAV HARKOV, MELANIE LIDMAN, HERB KEINON
10/25/2012 20:19
Netanyahu, Liberman say parties to run together for 19th Knesset; Yacimovich, Mofaz call for Center to unite forces.
The Likud and Yisrael Beytenu will run together for the 19th Knesset, Prime Minister Binyamin Netanyahu and Foreign Minister Avigdor Liberman announced on Thursday night.
In a brief press conference at a Jerusalem hotel, Netanyahu and Liberman refused to answer any questions regarding the order of the candidates on the joint Knesset list, but a Likud source said Netanyahu would be first, followed by Liberman, then two Likud MKs, followed by a member of Yisrael Beytenu.
Both parties denied that the foreign minister and the prime minister would have a rotation for the top spot, saying that Netanyahu would lead Israel for 10 more years.
"We are ahead of difficult challenges and it is time to unite powers for the State of Israel," Netanyahu said. "One ticket will strengthen the government, it will strengthen the prime minister, and it will strengthen the country.