Bashir's award is akin to Obama's Nobel.
Being honest here, such tomfoolery can be seen in the ranks of the Republicans as well, but right now, it's the Dems in question, and they have to held accountable for the nonsense they sign on to. How many times in the past have we seen Muslims hailed as "human rights activists" and "moderates", only to learn later on they're something entirely else than what they originally promoted themselves to be?
Think hard, very hard, the next time another Muslim is being trumpeted as a "moderate" in the media, and ask yourself, what else lies in his or her background not being reported on? Cynical? Perhaps yes, but when looking at the track record, it sounds more like prudence than cynicism.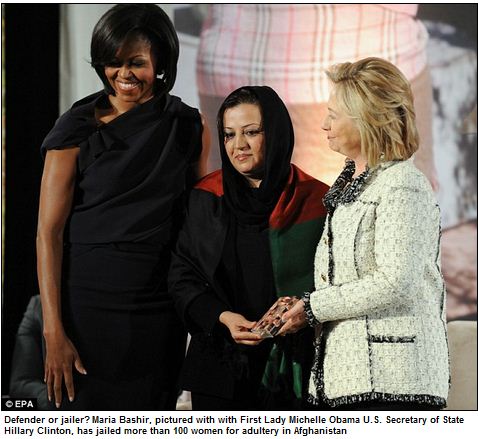 Afghan 'Woman of Courage' hailed by Michelle Obama for defending women's rights has actually JAILED 100 wives for 'adultery'
More than 50% of women jailed for adultery in Afghanistan come from province prosecuted by Ms Bashir 

– which holds just 20% of the population
By EDDIE WRENN
PUBLISHED: 10:44 GMT, 22 October 2012 | UPDATED: 11:49 GMT, 22 October 2012
Last year she was hailed as one of the most influential people in the world – a defender of women's rights as Afghanistan's only female head prosecutor.
Ms Bashir has been lauded by both Michelle Obama and Hilary Clinton – and she was one of ten women to receive a 'Women of Courage' Award in Washington last year.
But Maria Bashir's reputation is now in doubt after the Times revealed that Ms Bashir is also the most prolific prosecutor of women for Afghanistan's so-called 'moral' crimes, such as adultery.
While Ms Bashir campaigns against abuse husbands, more than half of the 172 women jailed in Afghanistan for sex outside of marriage (known as 'zina') have come from her province.