These are the people Obama and the State dept., wants you to embrace.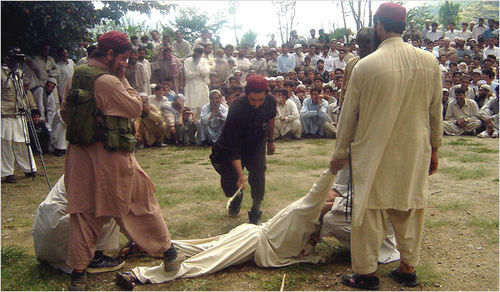 New FJP leader in Egypt calls for Sharia law
By JPOST.COM STAFF
10/20/2012 02:36
Saad al-Katatny elected head of Muslim Brotherhood's Freedom and Justice Party, says goal is to "institute Islamic Sharia law."
PHOTO: REUTERS/POOL NEW
Saad al-Katatny was elected chairman of the Egyptian Muslim Brotherhood's political wing, the Freedom and Justice Party, Egyptian media reported Friday. He beat out FJP's acting leader Essam al- Erian in a vote that took place October 6.
The FJP is Egypt's largest political party, currently occupying 47 percent of all seats in the country's lower house of parliament.
Katatny hailed his election as "a first step" towards achieving the goals of the FJP, according to Egypt's Al-Ahram newspaper.
In this respect, Katatny was quoted as saying that "The Muslim Brotherhood established the [FJP] to represent the Brotherhood's political project, which, in the end, will be a wise government that will institute Islamic Shari'a law."
Egyptian President Mohamed Morsi earlier this year ran for office on the FJP ticket. However, he resigned from the party immediately after being elected.
Last week Egyptian Muslim Brotherhood spiritual leader Muhammad Badie called on Muslims worldwide to liberate Jerusalem by means of jihad.