Remember folks, this is the supposed tolerant Muslim Indonesian state that the apologists often point a finger to, to prove Islam and democracy are compatible. Yeah right, Islam is just as compatible with democracy as Marxist and Fascist socialism were.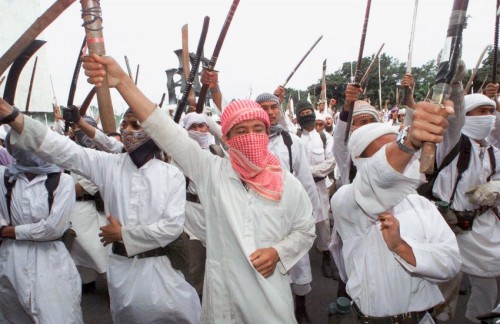 Nine churches and six Buddhist temples shut down under Islamist pressure in Banda Aceh
by Mathias Hariyadi
For the city's deputy mayor, the buildings were not being properly used. They lacked the proper building permit and were used for "unlawful" purposes. She pledged greater monitoring of minority activities. Local sources say that the crackdown is the result of threats from extremist groups. FPI now wants other cities and towns to do the same.
Jakarta (AsiaNews) – Authorities in Banda Aceh, capital of the Aceh Special Territory, ordered the closure of nine Christian home churches and six Buddhist prayer houses for alleged irregularities in their building permit. According to Deputy Mayor Hajjah Illiza Sa'aduddin Djamal, the buildings were illegal because they lacked the right permit. Under the law, private homes cannot be used "for religious ceremonies or functions."
"Aceh is a special territory that enforces Sharia," she said and home churches violate the law because they lack the appropriate building permit (Izin Mendirikan Bangunan in Indonesian).
The issue is more complicated in the case of Christian places of worship because the latter require the agreement of a certain number of local residents and that of the local interfaith dialogue group. Under the pressure of radical Muslim groups, permits are often denied.
Deputy Mayor Djamal also wants the authorities to monitor the activities of Buddhist and Christian communities to ensure that their services are performed in the right places. This is necessary, in her view, to "maintain interfaith harmony." At the same time, "we shall not issue any new permit for other churches or vihara (Buddhist temples)."
Local Muslim extremists welcomed the decision. Yusuf Al-Qardhawy, head of the Aceh branch of the Islamic Defence Front (FPI), called on other jurisdictions to follow Banda Aceh, enforce Islamic law and stop any non-Muslim worship activity that is not approved.
He said the situation would be monitored constantly to ensure that rules are respected. Local sources note that the municipal order shutting Buddhist and Christian places of worship follows a complaint filed by Islamists concerning an "improper" use of buildings.