Gee, the Finnish president's pandering  at the UN didn't pay off as expected.
This is particularly galling for many Finns, seeing that the entire Finnish political establishment worship at the alter of that organization. For them, they don't see it as the corrupt freak show that it is, but simply as a stage to promote Finland on an international level, as well as as a key organization to launch a career in the bureaucracy.
To date, I have yet to hear a Finnish politician accurately describe the UN for what it really is, a slush fund for socialists and other corruption minded individuals, who use it as a redistribution of wealth mechanism to fund their favorite pet projects, while they get to enrich themselves as well.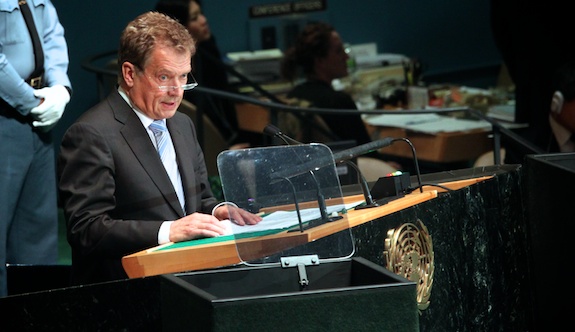 Finland denied Security Council seat
Finland was edged out for a non-permanent seat on the UN Security Council on Thursday by Australia and Luxembourg.
In the first round, Australia earned 140 votes, Luxembourg 128 and Finland 108.
In the second round, Luxembourg earned 131 votes, just over the required two-thirds number of 129 needed. Finland garnered just 62 votes. There were scattered cheers in the General Assembly when the results were read out.
Also elected to the body for two-year terms beginning in January were Argentina, Rwanda and South Korea.
The 193 members of the General Assembly voted to elect five new non-permanent members of the Security Council. Finland, Luxembourg and Australia were in a three-way competition for two seats in the Western European and Others group.
Finnish diplomats had been actively lobbying for a seat for years, and had been predicting an outright win in the first round. Now they will have to wait two decades for another chance.