These people are evil. They know exactly what they are doing, it's not all a bunch of coincidences, the "former" communists are back in action under the guise of a new and improved "European Union of Socialist Republics". Whether or not you want to quibble about whether they're Fabian, Social Democrat or Marxists socialists, it doesn't matter, they're all statist totalitarians to me.
End the EU project once and for all, and focus on building true democratic nation states that focus on limited government, wide dispersion of political power and the defense of the free market capitalist system. You do not need a mammoth pan European union to safeguard against violence between the states, because democracies, meaning free pluralist democracies based on the rule of law, do not war against each other.
H/T: Fjordman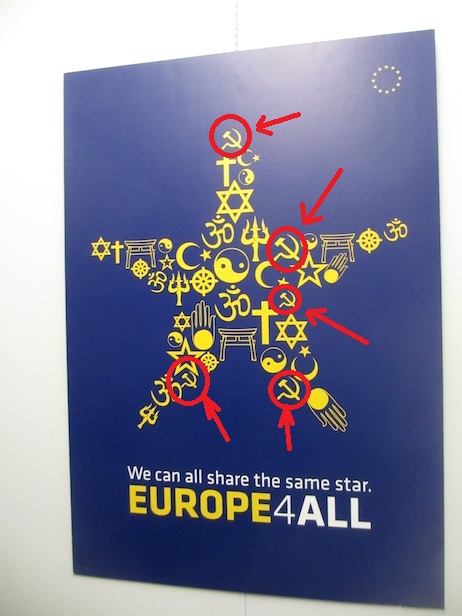 UK MP, Daniel Hannan says is all: 
For three generations, the badge of the Soviet revolution meant poverty, slavery, torture and death. It adorned the caps of the chekas who came in the night. It opened and closed the propaganda films which hid the famines. It advertised the people's courts where victims of purges and show-trials were condemned. It fluttered over the re-education camps and the gulags. For hundreds of millions of Europeans, it was a symbol of foreign occupation. Hungary, Lithuania and Moldova have banned its use, and various  former communist countries want it to be treated in the same way as Nazi insignia.

Yet here it sits on a poster in the European Commission, advertising the moral deafness of its author (I hope that's what it is, rather than lingering nostalgia). The Bolshevist sigil celebrates the ideology which, in strict numerical terms, must be reckoned the most murderous ever devised by our species. That it can be passed unremarked day after day in the corridors of Brussels is nauseating.