A real feel good story
An Arab Israeli actively benefiting humanity through science, while others outside Israel demonstrate their loathing of it.
H/T: Ram Lubranicki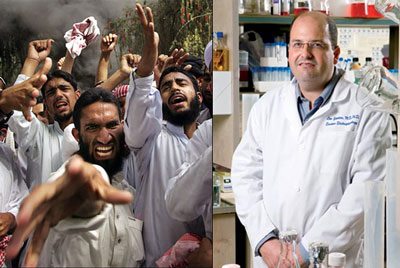 Banking on gold for cancer radiation therapy
An Arab-Israeli scientist is perfecting a method for injecting gold nanoparticles into cancer cells to make them more vulnerable to radiation.
Arab-Israeli scientist Amal Ayoub is going for the gold –not aiming for a medal in an Olympic sport, but to help cure cancer.
Ayoub's startup, Metallo Therapy, is premised on her earlier research showing that metal nanoparticles – especially gold – introduced into malignant tumors can enhance the effects of radiation therapy while reducing damage to neighboring healthy cells.
"Gold is a big atom containing a lot of electrons," she explains to ISRAEL21c. "Under radiation it can absorb the rays better than smaller atoms can, and its electrons can emit secondary radiation efficient in destroying the cancer cells."
Working with two Arab-Israeli employees – a male chemical engineer with a degree from the Technion-Israel Institute of Technology, and a female biologist – Ayoub is perfecting a method to produce the gold nanoparticles efficiently on an industrial scale, and has developed a molecule to coat them so that they do not cause toxic interactions with body tissues.
Isn't gold a very expensive material to work with? "Yes, but since we are talking about very small amounts — a couple of milligrams — the price is not an issue," she explains. "It's the same cost as developing any other drug."
So far, she's done all this with three years' worth of funding provided by the Israeli Chief Scientist's Office through the NGT Technology Incubator in Nazareth, the only applied sciences company devoted specifically to the Arab-Israeli community's scientific, technological and entrepreneurial potential.