Yesterday's pals are today's mortal enemies.
GOLDEN QUOTE: 
Until last year, Turkey and Syria were close allies, says the BBC's James Reynolds, near the Turkey-Syria border.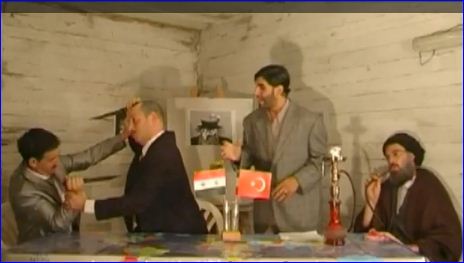 Turkey bans all Syrian flights over its territory
Syrian planes have been banned from Turkish air space, the Turkish foreign ministry has announced.
The ban follows similar restrictions imposed by Syria, after a Syrian plane alleged to be carrying Russian munitions was intercepted by Turkey.
Turkey's ban came in on Saturday night and was communicated to Syria, but was only made public on Sunday.
It applies to civilian aircraft, as military aircraft were already de facto banned, a ministry official said.
The Syrian move followed Turkey's interception on Wednesday of a Syrian jet, which Turkish warplanes forced to land in Ankara.
Turkish officials confiscated what they described as munitions bound for Syria's defence ministry – an allegation disputed by Damascus.
At the time, Turkey warned its own civilian airlines to avoid Syrian air space as a precaution.