Carl Bildt gives Raoul Wallenberg the middle finger.
In yesterday's post about Israeli Prime Minister Benyamin Netanyahu visiting Europe to secure approval for tougher sanctions on Iran, I stated the following:
Gee, lets see how the EU, fresh from its big Nobel peace prize win, helps the Jewish state in securing its future.
Well we don't have to wait around for an answer to that question, the Swedes have already done that for us. They are going to block any and all efforts on securing tougher sanctions by sandbagging any momentum for them within the EU. Insisting instead that "negotiations alone" should be the way forward. A double face palm is in order here.
In other words, knowing that all negotiations with the Iranians thus far have ended in absolute, miserable failure, they're insisting on more of the same. So what that tells us is, the Swedish political establishment have already given Iran a green light to proceed with their development of nuclear weapons. They are fully on board with it.
The Swedish political elite's hatred for Israel must be an intense one.
NOTE: Swedish foreign Minister Carl Bildt rubbing elbows with his terrorist loving activists on their return to Sweden from the terrorist IHH infested ship, the Mavi Marmara.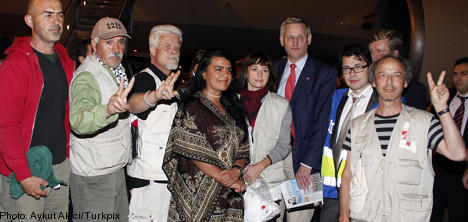 Sweden seeks to block tough EU Iran sanctions
10/15/2012 02:29
Swedish Foreign Minister Carl Bildt has long championed diplomacy over sanctions as the method to deal with Iran and Syria.
The Swedish government tossed a wrench into the EU process to impose a set of robust new sanctions on Iran in order to protect a business deal between Swedish telecommunications giant Ericsson and Tehran.
Haaretz reported on Sunday that an Israeli Foreign Ministry diplomat said, "We know that in Sweden they fear that if the deal between Ericsson and Iran is canceled this could have implications for the company's other deals. The Swedes fear that other countries with problematic human rights records such as China will hear about the cancellation and worry about their ties with Ericsson."
The European Union is slated on Monday to pass a new package of gas, financial and shipping sanctions.
Swedish Foreign Minister Carl Bildt has long championed diplomacy over sanctions as the method to deal with Iran and Syria. Earlier this year he went to great lengths to prevent the EU from forcing Ericsson to pull the plug on its contracts with Syria's regime.
According to Haaretz, Israeli diplomats, citing their European diplomatic counterparts, questioned whether Bildt had "personal interests" in Iran that were impeding his capacity to move forward with sanctions.